Subaru Forester: Seatbelt pretensioners / Seatbelt with shoulder belt and lap belt pretensioners
NOTE
This section is applicable to the front seatbelt.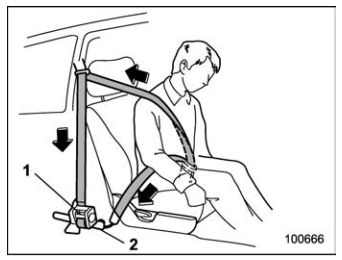 Seatbelt retractor assembly (shoulder belt pretensioner and adaptive force limiter)
Lap belt pretensioner
The shoulder belt pretensioner is supplemented by a lap belt pretensioner, which is located at the base of the center pillar. Like the shoulder belt pretensioner, the lap belt pretensioner instantaneously pulls in the belt to eliminate slack if a certain level of frontal collision force is detected. As a result, the seatbelt restrains the front seat occupant more effectively.
The front seatbelt pretensioner includes a tension reducing device which limits the peak forces exerted by the seatbelt on the occupant in the event of a collision.
The adaptive force limiter will select a reducing load to the suit body size of occupant as detected by the occupant detection system sensors.
When a seatbelt pretensioner is activated, an operating noise will be heard and a small amount of smoke will be released. These occurrences are normal and not harmful. This smoke does not indicate a fire in the vehicle.
Once the seatbelt pretensioner has been activated, the seatbelt pretensioner remains locked. Consequently, the seatbelt cannot be pulled out and retracted and therefore must be replaced.
System monitors
A diagnostic system continually monitors the readiness of the seatbelt pretensioner with the ignition switch in the "ON" position. The seatbelt pretensioners share the control module with the SRS airbag system. Therefore, if any malfunction occurs in a seatbelt pretensioner, the SRS airbag system warning light will illuminate. For details, refer to "SRS airbag system monitors".
WARNING When discarding a seatbelt retractor assembly or scrapping the entire vehicle damaged by a collision, consult your SUBARU dealer. Tampering with or disconnecting the system's wiring could result in accidental activation of the seatbelt pretensioner and/or SRS airbag or c..
Other information:
The automatically retract seat on entry which automatically slides back the driver's seat when the driver's door is unlocked and opened. This function can be turned ON/OFF. For the setting procedure, refer to "Driver Monitoring System settings"...
Select "Bypass Screen" from the 2nd menu in the setting screen. Refer to "Setting screen". Select "On" or "Off" to turn the display of items on or off by using the control switches. Select "Set" to exit settings. Select "Go Back" to return to the previous screen without applying the setting changes...