Subaru Forester: Maintenance precautions / Before checking or servicing in the engine compartment
WARNING
Always stop the engine and apply the parking brake firmly to prevent the vehicle from moving.
Always let the engine cool down. Engine parts become very hot when the engine is running and remain hot for some time after the engine has stopped.
Do not spill engine oil, engine coolant, brake fluid or any other fluid on hot engine components. This may cause a fire.
When the ignition switch is in the "ON" position, the cooling fan may operate suddenly even when the engine is stopped. If your body or clothes come into contact with a rotating fan, that could result in serious injury. To avoid risk of injury, perform the following precautions.

Models with push-button start system:

Always turn the push-button ignition switch to the "OFF" position and confirm that the operation indicator on the switch is turned off. Then take the access key fob out from the vehicle.

Models without push-button start system:

Always remove the key from the ignition switch.

Before performing any servicing on a vehicle equipped with a remote engine start system (a dealer option), temporarily place the remote engine start system in service mode to prevent it from unexpectedly starting the engine.
When maintenance and service are required, it is recommended that a..
CAUTION Do not touch the engine cover while checking the components in the engine compartment. Doing so may cause your hand to slip off the cover and result in an unexpected injury...
Other information:
CAUTION Do not operate the starter motor continuously for more than 10 seconds. If the engine fails to start after operating the starter for 5 to 10 seconds, wait for 10 seconds or more before trying again. NOTE It may be difficult to start the engine when the battery has been disconnected and reconnected (for maintenance or other purposes)...
Center ventilators Center ventilators To adjust the airflow direction, move the tab. To close the ventilator, move the tab all the way down. Side ventilators Side ventilators Close Open To adjust the flow direction, move the tab. Rear ventilators (if equipped) Rear ventilators Close Open To adjust the flow direction, move the tab...
Categories
Turn the ignition switch to "ON".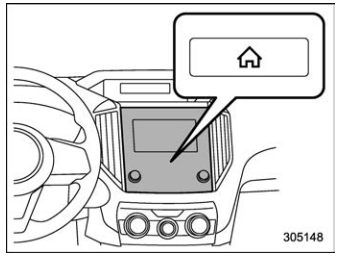 Press the

button. Select "Settings". Select "Vehicle". Select "Time/Date" and then select "Manual".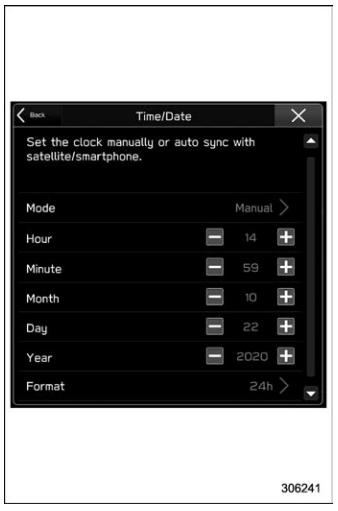 Set the each items plus and minus. Select

to complete the clock setting.