Subaru Forester: Maintenance and service / Brake fluid
Checking the fluid level
WARNING
Never let brake fluid contact your eyes because brake fluid can be harmful to your eyes. If brake fluid gets in your eyes, immediately flush them thoroughly with clean water. For safety, when performing this work, wearing eye protection is advisable.
Brake fluid absorbs moisture from the air. Any absorbed moisture can cause a dangerous loss of braking performance.
If the vehicle requires frequent refilling, there may be a leak. If you suspect a problem, have the vehicle checked at your SUBARU dealer.
CAUTION
When adding brake fluid, be careful not to allow any dirt into the reservoir.
Never splash the brake fluid over painted surfaces or rubber parts. Alcohol contained in the brake fluid may damage them.
Be careful not to spill brake fluid when adding it. If brake fluid touches the exhaust pipe, it may cause a bad smell, smoke, and/or a fire. If brake fluid gets on the exhaust pipe, be sure to wipe it off.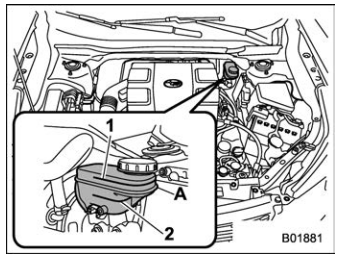 "MAX" level line
"MIN" level line
The brake fluid level must be checked in this area.
Check the fluid level monthly.
Check the fluid level on the outside of the reservoir. Be sure to check the fluid level for the brake system at the shaded area in the illustration.
If the fluid level is below "MIN", add the recommended brake fluid to "MAX". Use only brake fluid from a sealed container.
Recommended brake fluid
Refer to "Fluids".
CAUTION
Never use different brands of brake fluid together. Also, avoid mixing DOT 3 and DOT 4 brake fluids even if they are the same brand.
The brake booster utilizes the vacuum produced by the engine manifold to reduce the force required to depress the brake pedal. The vacuum in the brake booster may be insufficient if the brake pedal is depressed when the engine is stopped or after the vehicle has been parked for a long period ..
Other information:
CAUTION Never replace a fuse with one having a higher rating or with material other than a fuse because serious damage or a fire could result. The fuses are designed to melt during an overload to prevent damage to the wiring harness and electrical equipment...
Warranties for U.S.A. SUBARU vehicles distributed by Subaru of America, Inc. and sold at retail by an authorized SUBARU dealer in the United States come with the following warranties: SUBARU Limited Warranties Federal Emission Control Systems Warranties California Emissions Control Systems Warranties All warranty information, including applicability, details of coverage and exclusions, is in the "Warranty and Maintenance Booklet"...
Categories
Free/Open Source Software Information
This product contains Free/Open Source Software (FOSS).
The license information and/or the source code of such FOSS can be found at the following URL.
http://www.globaldenso.com/en/opensource/ivi/subaru/