Subaru Forester: Reverse Automatic Braking (RAB) system (if equipped) / Handling of the sonar sensors
The 4 sonar sensors are located in the rear bumper. To ensure the proper operation of the Reverse Automatic Braking (RAB) system, observe the following precautions.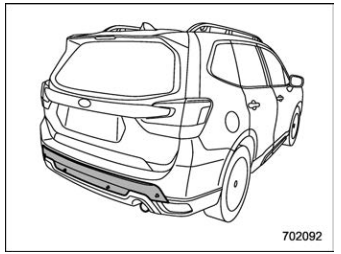 Do not affix any stickers or other items on the sonar sensor or the bumper surface near the sonar sensors.
Always keep the rear bumper surface near the sonar sensors clean.
Do not modify the rear bumper.
Do not paint the bumper near the sonar sensors.
Do not apply strong impacts to the rear bumper near the sonar sensors. If a sensor becomes misaligned, a system malfunction may occur, including inability to detect objects in the reversing direction. If any strong impact is applied to the rear bumper, contact a SUBARU dealer to have the system inspected.
Do not disassemble the sonar sensors.
NOTE
If the sonar sensors require repair or replacement, or if the area of the rear bumper near the sonar sensors requires repair, paintwork or replacement, contact your SUBARU dealer for assistance.
Driver Monitoring System is introduced as DriverFocus in some countries. The Driver Monitoring System monitors possible cases when the driver is not paying attention to the forward direction, and also recognizes individual users...
Other information:
You can set the date, time and 12h or 24h format settings. Current date and time setting For details about clock setting, refer to "Clock". Birthday setting If a birthday or anniversary is approaching, a message will be displayed when the ignition switch is turned to the "ON" position...
Warranties for U.S.A. SUBARU vehicles distributed by Subaru of America, Inc. and sold at retail by an authorized SUBARU dealer in the United States come with the following warranties: SUBARU Limited Warranties Federal Emission Control Systems Warranties California Emissions Control Systems Warranties All warranty information, including applicability, details of coverage and exclusions, is in the "Warranty and Maintenance Booklet"...