Subaru Forester: In case of emergency / Maintenance tools
Your vehicle is equipped with the following maintenance tools.
Jack
Jack handle
Screwdriver
Towing hook (eye bolt)
Wheel nut wrench
Screwdriver and wheel nut wrench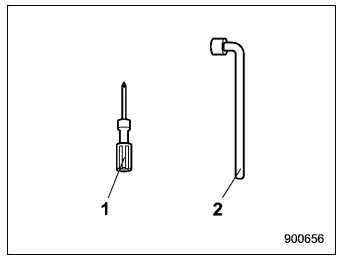 Screwdriver
Wheel nut wrench
The screwdriver, wheel nut wrench, etc. are stored in your vehicle. The tools can also be stored in the tool bucket.
Under the rear floor
The jack, jack handle and towing hook are stored as shown in the following illustrations.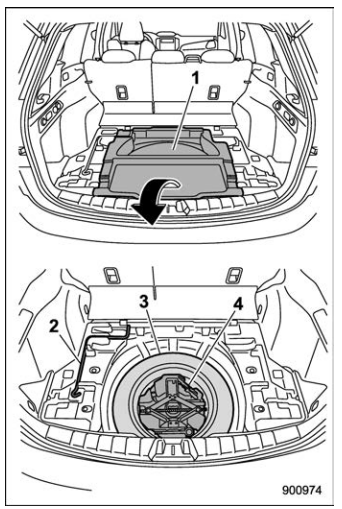 Under-floor storage compartment (if equipped). Refer to "Under-floor storage compartment".
Jack handle
Spare tire
Tool bucket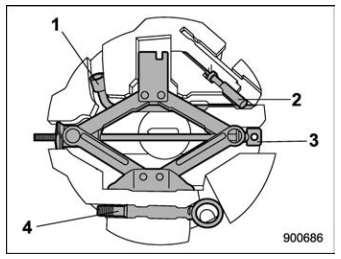 Wheel nut wrench
Screwdriver
Jack
Towing hook (eye bolt)
NOTE
For how to use the jack, refer to "Flat tires".
The following items may be different depending on the model.

The shape of the storage compartment
The locations of some maintenance tools
WARNING Never tow a trailer when the temporary spare tire is used. The temporary spare tire is not designed to sustain the towing load. Use of the temporary spare tire when towing can result in failure of the spare tire and/or less stability of the vehicle and may lead to an accide..
Other information:
If you must rock the vehicle to free it from snow, sand, or mud, depress the accelerator pedal slightly and move the select lever back and forth between "D" and "R" repeatedly. Do not race the engine. For the best possible traction, avoid spinning the wheels when trying to free the vehicle...
Roof rails Roof crossbars Roof tent Occupants in the roof tent The total weight on the roof rails – including the roof crossbars, roof tent, and all occupants and contents in the roof tent – must not exceed either the vehicle's roof rail load limit (700 lbs (317 kg)), evenly distributed, or the load limit of the roof crossbars, whichever is lower...