Subaru Forester: In case of emergency / Maintenance tools
Your vehicle is equipped with the following maintenance tools.
Jack
Jack handle
Screwdriver
Towing hook (eye bolt)
Wheel nut wrench
Screwdriver and wheel nut wrench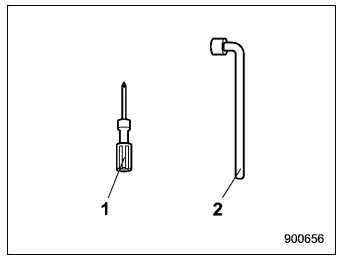 Screwdriver
Wheel nut wrench
The screwdriver, wheel nut wrench, etc. are stored in your vehicle. The tools can also be stored in the tool bucket.
Under the rear floor
The jack, jack handle and towing hook are stored as shown in the following illustrations.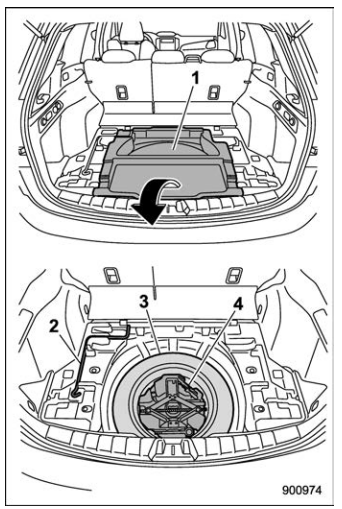 Under-floor storage compartment (if equipped). Refer to "Under-floor storage compartment".
Jack handle
Spare tire
Tool bucket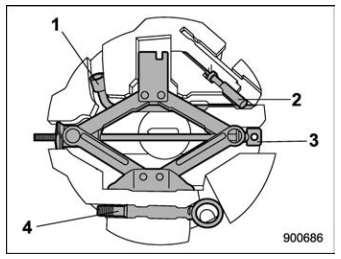 Wheel nut wrench
Screwdriver
Jack
Towing hook (eye bolt)
NOTE
For how to use the jack, refer to "Flat tires".
The following items may be different depending on the model.

The shape of the storage compartment
The locations of some maintenance tools
WARNING Never tow a trailer when the temporary spare tire is used. The temporary spare tire is not designed to sustain the towing load. Use of the temporary spare tire when towing can result in failure of the spare tire and/or less stability of the vehicle and may lead to an accide..
Other information:
Release the parking brake and put the transmission in the neutral position. The ignition switch should be in the "ON" position while the vehicle is being towed. Take up slack in the towline slowly to prevent damage to the vehicle. WARNING Never turn the ignition switch to the "LOCK"/"OFF" position while the vehicle is being towed because the steering wheel and the direction of the wheels will be locked...
WARNING Never remove the radiator cap until the engine has been shut off and has fully cooled down. When the engine is hot, the coolant is under pressure. Removing the cap while the engine is still hot could release a spray of boiling hot coolant, which could burn you very seriously...