Subaru Forester: Mirrors / Programming a New HomeLink Button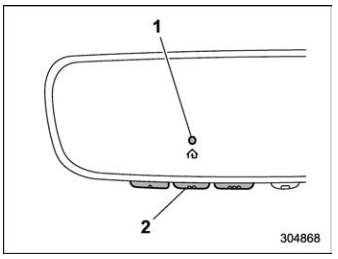 Indicator Light
HomeLink Buttons
Press and release the HomeLink button that you would like to program. The HomeLink indicator light will flash orange slowly (if not, refer to "Erasing HomeLink Buttons").

Garage door opener remote

Position the hand-held remote (garage door opener remote) 1 to 3 inches (2 to 8 cm) away from the HomeLink button that you would like to program.

NOTE

Some hand-held remotes (garage door opener remotes) may actually train better at a distance of 6 to 12 inches (15 to 30 cm). Keep this in mind if you have difficulty with the programming process.

While the HomeLink indicator light is flashing orange, press and hold the handheld remote button. Continue pressing the hand-held remote button until the HomeLink indicator light changes from orange to green. You may now release the hand-held remote button.

NOTE

Some devices may require you to replace this "Programming a New HomeLink Button" step 3 with procedures noted in the "Gate Operator / Canadian Programming" section. Refer to "Gate Operator/Canadian Programming".

Indicator Light

Press the HomeLink button that you would like to program and observe the indicator light.

If the indicator light remains constant green, your device should operate when the HomeLink button is pressed. At this point, if your device operates, programming is complete.
If the indicator light rapidly flashes green, firmly press, hold for two seconds and release the HomeLink button up to three times to complete the programming process. At this point if your device operates, programming is complete. If the device does not operate, continue with the next step of the programming instructions.

"Learn" button

At the garage door opener motor, (security gate motor, etc.) locate the "Learn", "Smart", or "Program" button. This can usually be found where the hanging antenna wire is attached to the motor-head unit (see the device's manual to identify this button). The name and color of the button may vary by manufacturer.

NOTE

A ladder and/or second person may simplify the following steps.

Firmly press and release the "Learn", "Smart", or "Program" button. You now have 30 seconds in which to complete step

Return to the vehicle and firmly press, hold for two seconds and release the HomeLink button up to three times. At this point programming is complete and your device should operate when the HomeLink button is pressed and released.

Status Indicators

If status indicator arrows appear next to the indicator light, please refer to "Garage Door Two-Way Communication"
In the event that there are still programming difficulties or questions, additional HomeLink information and programming videos can be found at www.HomeLink.com and www.youtube.com/HomeLinkGentex. For Genie and Sommer garage door openers please go directly to the HomeLink website.
Canadian radio-frequency laws require transmitter remote signals to "time-out" (or quit) after several seconds of transmission, which may not be long enough for HomeLink to pick up the signal during programming...
Other information:
Close the driver's door. Hold the access key fob and press and hold the "SET" button, then press the button on the access key fob. A chirp will sound, and the registered seat position will be cleared. NOTE After deleting the seat position, wait for a few moments before registering a new seat position...
Driving range on remaining fuel Average fuel consumption corresponding to the driving distance of each trip meter Current fuel consumption User information (if equipped) The fuel consumption information is displayed on the screen. If the driver is recognized by the Driver Monitoring System, average fuel consumption for the driver will be displayed...
Categories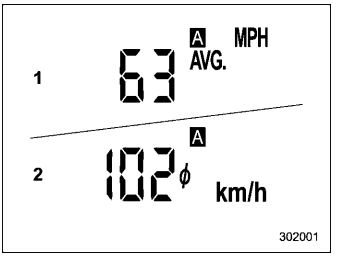 When units in miles is selected When units in km is selected
This display shows the average vehicle speed since the trip meter was last reset. Pressing the TRIP RESET switch toggles the display between the average vehicle speed corresponding to the A trip meter display and the average vehicle speed corresponding to the B trip meter display. When either of the trip meter displays is reset, the corresponding average vehicle speed value is also reset.