Subaru Forester: Cruise control (if equipped) / To set cruise control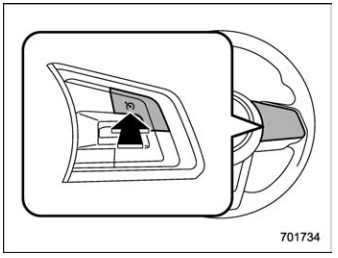 Cruise control main button
Press the cruise control main button.

The cruise control indicator light on the combination meter will illuminate.

Depress the accelerator pedal until the vehicle reaches the desired speed.

Press the "RES/SET" switch to the "SET" side and release it. Then release the accelerator pedal.
NOTE
When setting a cruise speed for the first time during a drive, both "SET" and "RES" may be used to set the initial cruise speed.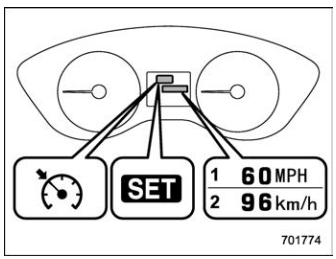 Cruise control set indicator light
When setting the displayed unit as "MPH"
When setting the displayed unit as "km/h" At this time, the cruise control set indicator light is illuminated in the combination meter. The set speed will be shown on the combination meter. You can change the displayed unit by operating the combination meter display. For meter details, refer to "Combination meter settings".
The vehicle will maintain the desired speed.
Vehicle speed can be temporarily increased while driving with the cruise control activated. Simply depress the accelerator pedal to accelerate the vehicle. When the accelerator pedal is released, the vehicle will return to and maintain the previous cruising speed.
Other information:
Pull the reclining lever up and adjust the seatback to the desired position. Then release the lever and make sure the seatback is securely locked into place. The seatback placed in a reclined position can spring back upward with force when the lever is pulled...
Two separate circuits Your vehicle has two separate circuit brake systems. Each circuit works diagonally across the vehicle. If one circuit of the brake system should fail, the other half of the system still works. If one circuit fails, the brake pedal will go down much closer to the floor than usual and you will need to press it down much harder...