Subaru Forester: Fuses and circuits / Fuse panel located in the passenger compartment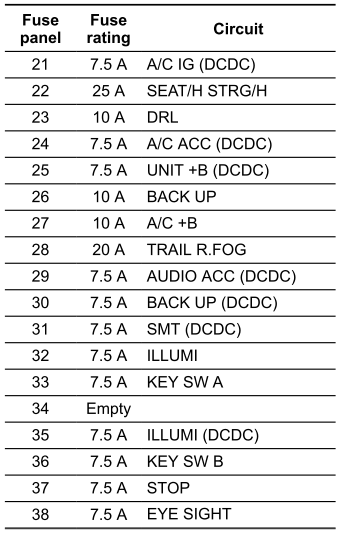 Other information:
This information indicates the relative performance of passenger car tires in the area of treadwear, traction, and temperature resistance. This is to aid the consumer in making an informed choice in the purchase of tires. Quality grades can be found where applicable on the tire sidewall between tread shoulder and maximum section width...
To clean the audio/navigation/multi-function display monitor, wipe it with a silicone cloth or with a soft cloth. If the monitor is extremely dirty, clean it with a soft cloth moistened with neutral detergent then carefully wipe off any remaining detergent...
Categories
The outside temperature is displayed on the multi-function display (color LCD).
NOTE
The outside temperature indicator shows the temperature around the sensor. However, the temperature may not be indicated correctly or the update may be delayed in the following conditions. While parking or driving at low speeds When the outside temperature changes suddenly (example: when going in and out of an underground parking area or when passing through a tunnel) When starting the engine after being parked for a certain period of time The temperature unit cannot be changed.