Subaru Forester: BSD/RCTA (if equipped) / Handling of radar sensors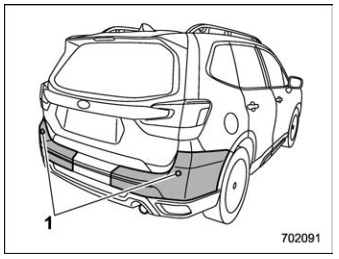 Sensors
The radar sensors, one on each side of the vehicle, are mounted inside the rear bumper.
To ensure correct operation of the BSD/RCTA, observe the following precautions.
Always keep the bumper surface near the radar sensors clean.
Do not affix any stickers or other items on the bumper surface near the radar sensors.
Do not modify the bumper near the radar sensors.
Do not paint the bumper near the radar sensors.
Do not expose the bumper near the radar sensors to strong impacts. If a sensor becomes misaligned, a system malfunction may occur, including the inability to detect vehicles entering the detection areas. If any strong shock is applied to the bumper, be sure to contact your SUBARU dealer for inspection.
Do not disassemble the radar sensors.
NOTE
If the radar sensors require repair or replacement, or the bumper area around the radar sensors requires repair, paintwork or replacement, contact your SUBARU dealer for assistance.
Reverse Automatic Braking (RAB) is a system designed to help avoid collisions or reduce collision damage when reversing the vehicle. If a wall or an obstacle is detected in the reversing direction, the system will notify the driver with a warning sound and may activate the vehicle's brakes ..
Other information:
NOTE For remote engine starter transceiver: In the event that the vehicle's battery is replaced, discharged or disconnected, it will be necessary to start the vehicle a minimum of one time using the key prior to activating the remote engine start system...
Canadian radio-frequency laws require transmitter remote signals to "time-out" (or quit) after several seconds of transmission, which may not be long enough for HomeLink to pick up the signal during programming. Similar to this Canadian law, some U...
Categories
The outside temperature is displayed on the multi-function display (color LCD).
NOTE
The outside temperature indicator shows the temperature around the sensor. However, the temperature may not be indicated correctly or the update may be delayed in the following conditions. While parking or driving at low speeds When the outside temperature changes suddenly (example: when going in and out of an underground parking area or when passing through a tunnel) When starting the engine after being parked for a certain period of time The temperature unit cannot be changed.