Subaru Forester: Starting and operating / Power steering
Power steering warning light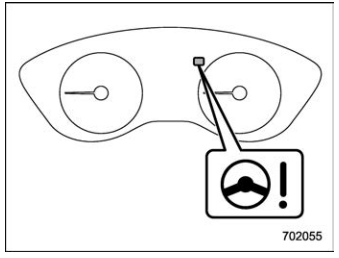 Power steering system features
NOTE
If the steering wheel is operated in the following ways, the power steering control system may temporarily limit the power assist in order to prevent the system components, such as the control computer and drive motor, from overheating.
The steering wheel is operated frequently and turned sharply while the vehicle is maneuvered at extremely low speeds, such as while frequently turning the steering wheel during parallel parking.
The steering wheel remains in the fully turned position for a long period of time.
At this time, there will be more resistance when steering. However, this is not a malfunction. Normal steering force will be restored after the steering wheel is not operated for a while and the power steering control system has an opportunity to cool down. However, if the power steering is operated in a non-standard way which causes power assist limitation to occur too frequently, this may result in a malfunction of the power steering control system.
Other information:
Lock Unlock The lock switch is in the lock position, the rear windows cannot be operated by the driver's side switches. The passenger's side switches and the rear seat side switches are not operational either. When the indicator on the window switches does not illuminate, the window switch cannot be operated...
Raise the wiper arm off the rear window. Turn the wiper blade assembly counterclockwise. Pull the wiper blade assembly toward you to remove it from the wiper arm. Install the wiper blade assembly to the wiper arm. Make sure that it locks in place...