Subaru Forester: Starting and operating / Power steering
Power steering warning light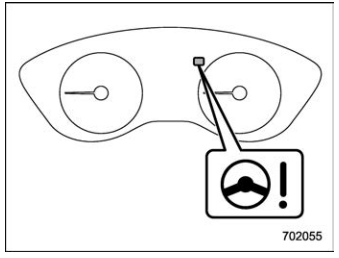 Power steering system features
NOTE
If the steering wheel is operated in the following ways, the power steering control system may temporarily limit the power assist in order to prevent the system components, such as the control computer and drive motor, from overheating.
The steering wheel is operated frequently and turned sharply while the vehicle is maneuvered at extremely low speeds, such as while frequently turning the steering wheel during parallel parking.
The steering wheel remains in the fully turned position for a long period of time.
At this time, there will be more resistance when steering. However, this is not a malfunction. Normal steering force will be restored after the steering wheel is not operated for a while and the power steering control system has an opportunity to cool down. However, if the power steering is operated in a non-standard way which causes power assist limitation to occur too frequently, this may result in a malfunction of the power steering control system.
Other information:
WARNING There are some general precautions when starting the engine. Carefully read the precautions described in "Starting engine". If the indicator on the push-button ignition switch flashes in green after the engine has started, never drive the vehicle...
This position is for parking the vehicle and starting the engine. In this position, the transmission is mechanically locked to prevent the vehicle from rolling freely. When you park the vehicle, first apply the parking brake firmly, then shift into the "P" position...