Subaru Forester: Reverse Automatic Braking (RAB) system operation / Obstacle detected and alert level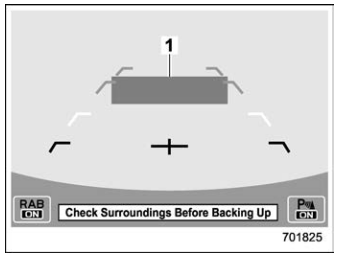 Long proximity alert (object detected)
Green: 35 in (90 cm) or more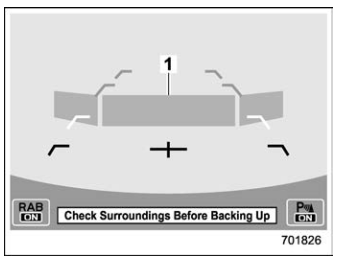 Medium proximity alert (approaching the object)
Yellow: 28 to 35 in (70 to 90 cm)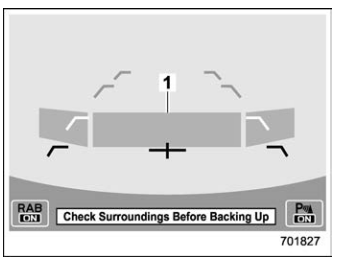 Short proximity alert (approaching the object closer)
Orange: 20 to 28 in (50 to 70 cm)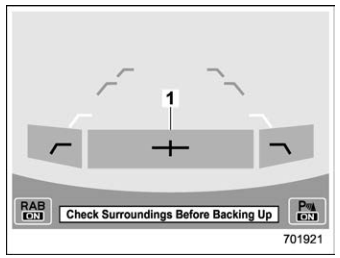 Closest proximity alert (too close to the object)
Red: 20 in (50 cm) or less
When an object is detected in the reversing direction, the range of detected object will be shown on the audio/navigation monitor.
A warning alarm will sound and, depending on the speed, either torque control to generate engine braking or automatic braking will be applied.
Object close behind warning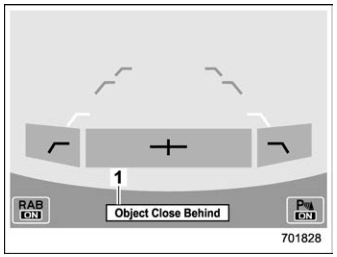 Automatic braking warning
Warning message
If the vehicle continues to go in reverse, the system may determine the risk of collision with the object. In this case, short warning beeps or continuous warning beeps will sound and either strong automatic braking or torque control will be applied to prevent collision.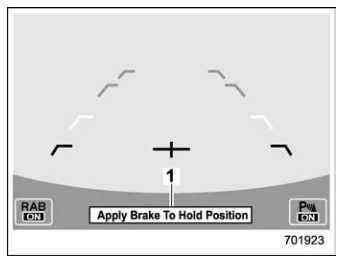 Depress brake pedal warning
Warning message
Make sure to depress the brake pedal once the vehicle has been stopped by automatic braking. Until the brake pedal is depressed, a message will be displayed on the audio/navigation monitor and the continuous beep will remain sounding. At this time, a warning message is also displayed on the combination meter display (color LCD).
WARNING
Depress the brake pedal immediately after the system stops the vehicle by automatic braking. Depending on the conditions of the road surface and tires, the vehicle may not remain stopped, possibly leading to an unexpected accident.
RAB OFF indicator After the brake pedal is depressed, the RAB OFF indicator will illuminate and the system will temporarily stop operating. The RAB OFF indicator will turn off when the select lever is shifted to a position other than the "R" position...
Other information:
To lower the armrest, pull down the top edge of the armrest. WARNING To avoid serious injury, passengers must never sit on the center armrest. When using the seatbelt, do not allow it to become tangled with an arm rest. The seatbelt will not perform its original function in an emergency and it may cause a serious injury...
Grease, wax, insects, or other material on the windshield or the wiper blade results in jerky wiper operation and streaking on the glass. If you cannot remove the streaks after operating the windshield washer or if the wiper operation is jerky, clean the outer surface of the windshield (or rear window) and the wiper blades using a sponge or soft cloth with a neutral detergent or mildabrasive cleaner...