Subaru Forester: Push-button ignition switch (models with "keyless access with push-button start system") / Operating range for push-button start system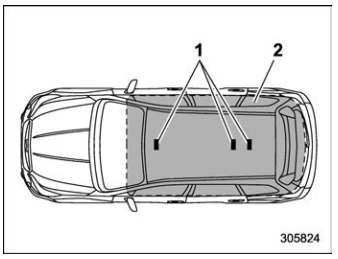 Antennas
Operating range
NOTE
If the access key fob is not detected within the operating range of the antennas inside the vehicle, the push-button ignition switch and the engine start cannot be operated.
Even when the access key fob is outside the vehicle, if it is placed too close to the glass, it may be possible to switch the power or to start the engine.
Do not leave the access key fob in the following places. It may become impossible to operate the push-button ignition switch and the engine start. It may also cause a false warning to issue although no malfunction actually occurs, or not to issue a warning when any malfunction occurs.

On the instrument panel
On the floor
Inside the glove box
Inside the door trim pocket
On the rear seat
In the cargo area

When operating the push-button ignition switch or starting the engine, if the access key fob battery is discharged, perform the procedure described in "Access key fob – if access key fob does not operate properly". In such a case, replace the battery immediately. Refer to "Replacing battery of access key fob".
Operation indicator Push-button ignition switch The power is switched every time the push-button ignition switch is pressed. Carry the access key fob, and sit in the driver's seat...
Other information:
CAUTION Do not place any foreign objects, especially metal ones, such as coins or aluminum foil, into the accessory power outlet. That could cause a short circuit. Always put the cap on the accessory power outlet when it is not in use...
Control switch (Up) /SET (Enter) (Down) By operating "" or "" of the control switch, the screens and selection items can be switched. When the " /SET" switch is pulled toward you, the item can be selected and set. If there are some useful messages, such as vehicle information, warning information, etc...