Subaru Forester: Push-button ignition switch (models with "keyless access with push-button start system") / Operating range for push-button start system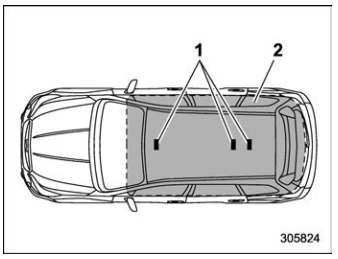 Antennas
Operating range
NOTE
If the access key fob is not detected within the operating range of the antennas inside the vehicle, the push-button ignition switch and the engine start cannot be operated.
Even when the access key fob is outside the vehicle, if it is placed too close to the glass, it may be possible to switch the power or to start the engine.
Do not leave the access key fob in the following places. It may become impossible to operate the push-button ignition switch and the engine start. It may also cause a false warning to issue although no malfunction actually occurs, or not to issue a warning when any malfunction occurs.

On the instrument panel
On the floor
Inside the glove box
Inside the door trim pocket
On the rear seat
In the cargo area

When operating the push-button ignition switch or starting the engine, if the access key fob battery is discharged, perform the procedure described in "Access key fob – if access key fob does not operate properly". In such a case, replace the battery immediately. Refer to "Replacing battery of access key fob".
Operation indicator Push-button ignition switch The power is switched every time the push-button ignition switch is pressed. Carry the access key fob, and sit in the driver's seat...
Other information:
CAUTION Use the emergency brake only in case of an emergency. If the emergency brake is excessively used, the brake parts will wear down faster or the brake may not work sufficiently due to brake overheating. NOTE While using the emergency brake: The electronic parking brake indicator light and the indicator light on the parking brake switch illuminate and a chirp sounds...
This position is for parking the vehicle and starting the engine. In this position, the transmission is mechanically locked to prevent the vehicle from rolling freely. When you park the vehicle, first apply the parking brake firmly, then shift into the "P" position...