Subaru Forester: Starting and operating / Remote engine start system (dealer option)
WARNING
There are some general precautions when starting the engine. Carefully read the precautions described in "General precautions when starting engine".
Do not remote start a vehicle in an enclosed environment (e.g. closed garage). Prolonged operation of a motor vehicle in an enclosed environment can cause a harmful build-up of carbon monoxide. Carbon monoxide is harmful to your health. Exposure to high levels of carbon monoxide can cause headaches, dizziness or in extreme cases unconsciousness and/or death.
The remote engine start system allows you to start the engine from outside the vehicle. In addition, the remote engine start system can activate the heater or air conditioner, providing you with a comfortable cabin upon entry. For more details, refer to the Owner's Manual supplement for the remote engine start system.
NOTE
The length of time for which it is acceptable to allow the engine to remain idling may be bound by local laws and regulations. Check the local rules when using the remote engine start system.
When taking your vehicle in for service, it is recommended that you inform the service personnel that your vehicle is equipped with a remote engine start system.
After stopping the engine and any door including the rear gate is opened, the steering wheel will be locked due to the steering lock function. When the engine is restarted, the steering lock will be automatically released. When the steering lock cannot be released Operation indicator Push-b..
Other information:
..
Roof rails Roof crossbars Roof tent Occupants in the roof tent The total weight on the roof rails – including the roof crossbars, roof tent, and all occupants and contents in the roof tent – must not exceed either the vehicle's roof rail load limit (700 lbs (317 kg)), evenly distributed, or the load limit of the roof crossbars, whichever is lower...
Categories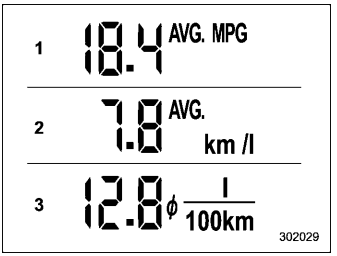 Displays the driving range per gallon of fuel Displays the driving range per liter of fuel Displays the fuel consumption per 100 km
This display shows the average rate of fuel consumption since the trip meter was last reset.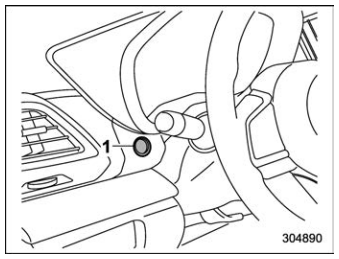 TRIP RESET switch