Subaru Forester: Basic screens / EyeSight screen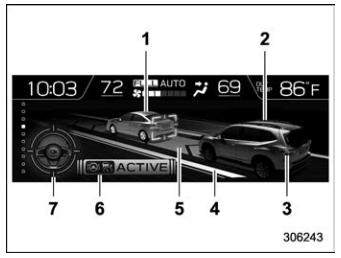 Lead vehicle indicator
Your own vehicle indicator
Stop lights
Road line indicator
Lane indicator
Lane Centering indicator
Steering wheel indicator
This screen displays the status of the EyeSight system. The lead vehicle indicator moves forward and backward depending on the distance with the vehicle in front. For details, refer to the Owner's Manual supplement for the EyeSight system.
Favorite screen (display example) This screen displays up to three optional pieces of information that can be selected from the following items. The engine coolant temperature is displayed...
Other information:
The low fuel warning light illuminates when the tank is nearly empty, at approximately 2.5 US gal (9.5 liters, 2.1 Imp gal). It only operates when the ignition switch is in the "ON" position. CAUTION Promptly put fuel in the tank whenever the low fuel warning light illuminates...
Choose a child restraint system that is appropriate for the child's age and size (weight and height) in order to provide the child with proper protection. The child restraint system should meet all applicable requirements of Federal Motor Vehicle Safety Standards for the United States or of Canada Motor Vehicle Safety Standards for Canada...
Categories
The outside temperature is displayed on the multi-function display (color LCD).
NOTE
The outside temperature indicator shows the temperature around the sensor. However, the temperature may not be indicated correctly or the update may be delayed in the following conditions. While parking or driving at low speeds When the outside temperature changes suddenly (example: when going in and out of an underground parking area or when passing through a tunnel) When starting the engine after being parked for a certain period of time The temperature unit cannot be changed.