Subaru Forester: Combination meter display (color LCD) (if equipped) / Basic operation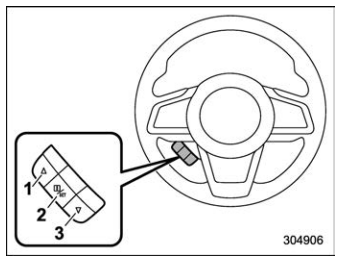 Control switch
(Up)
/SET (Enter)
(Down)
By operating "

" or "
" of the control switch, the screens and selection items can be switched. When the " /SET" switch is pulled toward you, the item can be selected and set.
If there are some useful messages, such as vehicle information, warning information, etc., they will interrupt the current screen, and appear on the display accompanied by a beep. If such a screen is displayed, take proper action according to the message shown on the screen.
The warning screen will return to the original screen after a few seconds. While the "
" information reminder is shown on the display, it may be possible to display the warning screen again. To recall the message marked with "
" on the display, pull the "

" switch on the steering wheel toward you.
NOTE
When the multi-function display (color LCD) is set to the setting screen, the combination meter display (color LCD) cannot be controlled pressing on the "

", "

" and "
" on the control switch.
When the driver's door is opened and closed after unlocking the door, the welcome screen (opening animation) will appear on the combination meter display (color LCD) for approximately 20 seconds...
Other information:
Cleaning ventilation grille Front ventilation inlet grille Always keep the front ventilation inlet grille free of snow, leaves, or other obstructions to ensure efficient heating and defrosting. Since the condenser is located in front of the radiator, this area should be kept clean because cooling performance is impaired by any accumulation of insects and leaves on the condenser...
Recommended cold tire inflation pressure For recommended cold tire inflation pressure for your vehicle's tires, refer to "Tires". Vehicle placard The vehicle placard is attached to the driver's side door pillar. Example: The vehicle placard shows original tire size, recommended cold tire inflation pressure on each tire at maximum loaded vehicle weight, seating capacity and loading information...