Subaru Forester: Combination meter display (color LCD) (if equipped) / Basic operation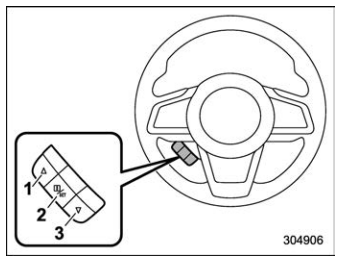 Control switch
(Up)
/SET (Enter)
(Down)
By operating "

" or "
" of the control switch, the screens and selection items can be switched. When the " /SET" switch is pulled toward you, the item can be selected and set.
If there are some useful messages, such as vehicle information, warning information, etc., they will interrupt the current screen, and appear on the display accompanied by a beep. If such a screen is displayed, take proper action according to the message shown on the screen.
The warning screen will return to the original screen after a few seconds. While the "
" information reminder is shown on the display, it may be possible to display the warning screen again. To recall the message marked with "
" on the display, pull the "

" switch on the steering wheel toward you.
NOTE
When the multi-function display (color LCD) is set to the setting screen, the combination meter display (color LCD) cannot be controlled pressing on the "

", "

" and "
" on the control switch.
When the driver's door is opened and closed after unlocking the door, the welcome screen (opening animation) will appear on the combination meter display (color LCD) for approximately 20 seconds...
Other information:
So that it can be used safely and comfortably, the Auto Start Stop system is designed to constantly monitor the vehicle conditions as well as the environment inside and outside the vehicle in addition to driver operations, and to provide various warnings to the driver via the warning light and/or indicator light illuminating or flashing and a buzzer sounding...
CAUTION Do not pick up a cup from the cup holder or put a cup in the holder while you are driving, as this may distract you and lead to an accident. Take care to avoid spills. Beverages, if hot, might scald you and/or your passengers. Spilled beverages may also damage upholstery or carpets...