Subaru Forester: Combination meter display (color LCD) (if equipped) / Basic operation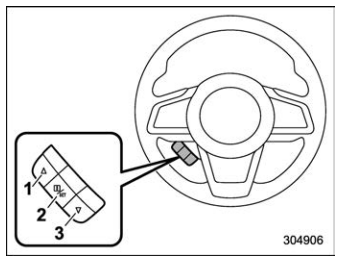 Control switch
(Up)
/SET (Enter)
(Down)
By operating "

" or "
" of the control switch, the screens and selection items can be switched. When the " /SET" switch is pulled toward you, the item can be selected and set.
If there are some useful messages, such as vehicle information, warning information, etc., they will interrupt the current screen, and appear on the display accompanied by a beep. If such a screen is displayed, take proper action according to the message shown on the screen.
The warning screen will return to the original screen after a few seconds. While the "
" information reminder is shown on the display, it may be possible to display the warning screen again. To recall the message marked with "
" on the display, pull the "

" switch on the steering wheel toward you.
NOTE
When the multi-function display (color LCD) is set to the setting screen, the combination meter display (color LCD) cannot be controlled pressing on the "

", "

" and "
" on the control switch.
When the driver's door is opened and closed after unlocking the door, the welcome screen (opening animation) will appear on the combination meter display (color LCD) for approximately 20 seconds...
Other information:
The catalytic converter is installed in the exhaust system. It serves as a catalyst to reduce HC, CO and NOx in exhaust gases, thus providing cleaner exhaust. To avoid damage to the catalytic converter: Use only unleaded fuel. Even a small amount of leaded fuel will damage the catalytic converter...
This information indicates the relative performance of passenger car tires in the area of treadwear, traction, and temperature resistance. This is to aid the consumer in making an informed choice in the purchase of tires. Quality grades can be found where applicable on the tire sidewall between tread shoulder and maximum section width...