Subaru Forester: Combination meter display (color LCD) (if equipped) / Basic operation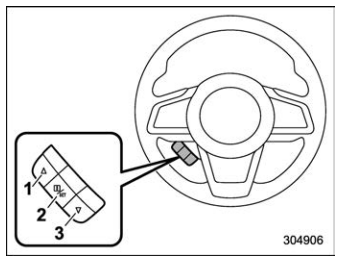 Control switch
(Up)
/SET (Enter)
(Down)
By operating "

" or "
" of the control switch, the screens and selection items can be switched. When the " /SET" switch is pulled toward you, the item can be selected and set.
If there are some useful messages, such as vehicle information, warning information, etc., they will interrupt the current screen, and appear on the display accompanied by a beep. If such a screen is displayed, take proper action according to the message shown on the screen.
The warning screen will return to the original screen after a few seconds. While the "
" information reminder is shown on the display, it may be possible to display the warning screen again. To recall the message marked with "
" on the display, pull the "

" switch on the steering wheel toward you.
NOTE
When the multi-function display (color LCD) is set to the setting screen, the combination meter display (color LCD) cannot be controlled pressing on the "

", "

" and "
" on the control switch.
When the driver's door is opened and closed after unlocking the door, the welcome screen (opening animation) will appear on the combination meter display (color LCD) for approximately 20 seconds...
Other information:
Select the air inlet by pressing the air inlet selection button. Recirculation:When the indicator light on the air inlet selection button illuminates, interior air is recirculated inside the vehicle. Press the air inlet selection button to the ON position in the following cases...
Unlock the vehicle doors using the remote keyless entry system.NOTE If the vehicle's doors are unlocked manually using the key, the vehicle's alarm system will trigger (if the alarm system is armed prior to activating the remote engine start system) and the engine will turn off...