Subaru Forester: Interior equipment / Overhead console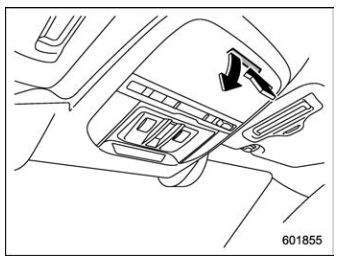 To open the console, push on the lid lightly and it will automatically open.
CAUTION
When your vehicle is parked in the sun or on a warm day, the inside of the overhead console heats up. Avoid storing plastic or other heatvulnerable or flammable articles such as a lighter in the overhead console.
CAUTION Always keep the storage compartment closed while driving to reduce the risk of injury in the event of a sudden stop or an accident. Do not store spray cans, containers with flammable or corrosive liquids or any other dangerous items in the storage compartment...
Other information:
Only one person should be involved in refueling. Do not allow others to approach the area of the vehicle near the fuel filler pipe while refueling is in progress. Be sure to observe any other precautions that are posted at the service station. To unlock the fuel filler lid, perform one of the operations below...
The synthetic leather material used on the SUBARU may be cleaned using mild soap or detergent and water, after first vacuuming or brushing away loose dirt. Allow the soap to soak in for a few minutes and wipe off with a clean, damp cloth. Commercial foam-type cleaners suitable for synthetic leather materials may be used when necessary...