Subaru Forester: Remote keyless entry system / Replacing lost transmitters. Certification for remote keyless entry system
Replacing lost transmitters.
If you lose a transmitter or want to purchase additional transmitters (up to four can be programmed), your transmitters should be reprogrammed for security reasons. For details, contact your SUBARU dealer and have the transmitters programmed into the remote keyless entry system.
Certification for remote keyless entry system
U.S.-spec. models
S02AQ1801 FCC ID: CWTB1G077
FCC ID: CWTD1G141
CAUTION
FCC WARNING
Changes or modifications not expressly approved by the party responsible for compliance could void the user's authority to operate the equipment.
NOTE
This device complies with part 15 of the FCC Rules. Operation is subject to the following two conditions: (1) This device may not cause harmful interference, and (2) this device must accept any interference received, including interference that may cause undesired operation.
Canada-spec. models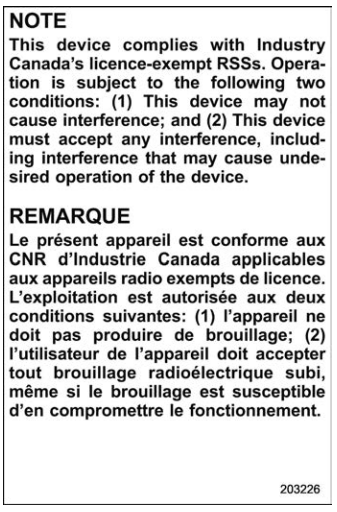 Mexico-spec. models
IFETEL RLVSUTB15-1814
SUBARU
MODEL: TB1G077
IFETEL RLVSUTD18-0302
SUBARU
MODEL: TD1G141
Other information:
User recognition When a user is registered with the user recognition function, the Driver Monitoring System performs the following. When the door is opened and the push-button ignition switch is OFF, the user recognition screen appears and the Driver Monitoring system starts user recognition...
CAUTION Do not operate the starter motor continuously for more than 10 seconds. If the engine fails to start after operating the starter for 5 to 10 seconds, wait for 10 seconds or more before trying again. NOTE It may be difficult to start the engine when the battery has been disconnected and reconnected (for maintenance or other purposes)...