Subaru Forester: Windshield washer fluid / Windshield washer fluid
Use windshield washer fluid. If windshield washer fluid is unavailable, use clean water.
In areas where water freezes in winter, use an anti-freeze type windshield washer fluid.
If you fill the reservoir tank with a fluid with a different concentration from the one used previously, purge the old fluid from the piping between the reservoir tank and washer nozzles by operating the washer for a certain period of time. Otherwise, if the concentration of the fluid remaining in the piping is too low for the outside temperature, it may freeze and block the nozzles.
CAUTION
Adjust the washer fluid concentration appropriately for the outside temperature. If the concentration is inappropriate, sprayed washer fluid may freeze on the windshield and obstruct your view, and the fluid may freeze in the reservoir tank.
State or local regulations on volatile organic compounds may restrict the use of methanol, a common windshield washer antifreeze additive. Washer fluids containing non-methanol antifreeze agents should be used only if they provide cold weather protection without damaging your vehicle's paint, wiper blades or washer system.
CAUTION Never use engine coolant as washer fluid because it could c..
Grease, wax, insects, or other material on the windshield or the wiper blade results in jerky wiper operation and streaking on the glass. If you cannot remove the streaks after operating the windshield washer or if the wiper operation is jerky, clean the outer surface of the windshield (or rea..
Other information:
WARNING Always maintain a safe driving speed according to the road and weather conditions in order to avoid having an accident on a sharp turn, during sudden braking or under other similar conditions. Always use the utmost care in driving – overconfidence because you are driving an All-Wheel Drive vehicle could easily lead to a serious accident...
Select the blank space in the menu to exit the driving information display selection. NOTE The average fuel consumption and average vehicle speed are calculated even while the driving information display is not displayed. Even if you turn off the driving information display, the display will automatically turn on when the battery voltage is disconnected and then reconnected for battery replacement or fuse replacement...
Categories
Turn the ignition switch to "ON".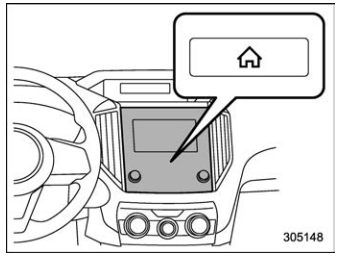 Press the

button. Select "Settings". Select "Vehicle". Select "Time/Date" and then select "Manual".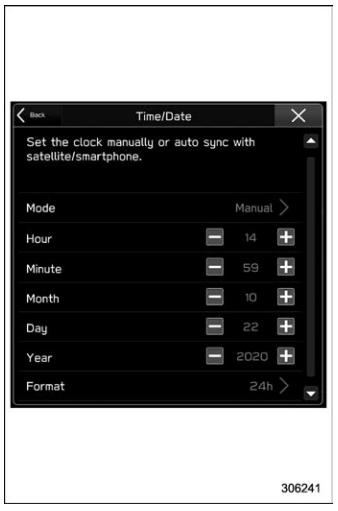 Set the each items plus and minus. Select

to complete the clock setting.