Subaru Forester: Windshield washer fluid / Windshield washer fluid
Use windshield washer fluid. If windshield washer fluid is unavailable, use clean water.
In areas where water freezes in winter, use an anti-freeze type windshield washer fluid.
If you fill the reservoir tank with a fluid with a different concentration from the one used previously, purge the old fluid from the piping between the reservoir tank and washer nozzles by operating the washer for a certain period of time. Otherwise, if the concentration of the fluid remaining in the piping is too low for the outside temperature, it may freeze and block the nozzles.
CAUTION
Adjust the washer fluid concentration appropriately for the outside temperature. If the concentration is inappropriate, sprayed washer fluid may freeze on the windshield and obstruct your view, and the fluid may freeze in the reservoir tank.
State or local regulations on volatile organic compounds may restrict the use of methanol, a common windshield washer antifreeze additive. Washer fluids containing non-methanol antifreeze agents should be used only if they provide cold weather protection without damaging your vehicle's paint, wiper blades or washer system.
CAUTION Never use engine coolant as washer fluid because it could c..
Grease, wax, insects, or other material on the windshield or the wiper blade results in jerky wiper operation and streaking on the glass. If you cannot remove the streaks after operating the windshield washer or if the wiper operation is jerky, clean the outer surface of the windshield (or rea..
Other information:
When all doors including the rear gate are locked, you can unlock the doors (including rear gate) without a key by pressing the rear lock button. Rear lock button NOTE PIN Code Access will be helpful if the key fob is accidentally left in the vehicle...
This position is for parking the vehicle and starting the engine. In this position, the transmission is mechanically locked to prevent the vehicle from rolling freely. When you park the vehicle, first apply the parking brake firmly, then shift into the "P" position...
Categories
Turn the ignition switch to "ON".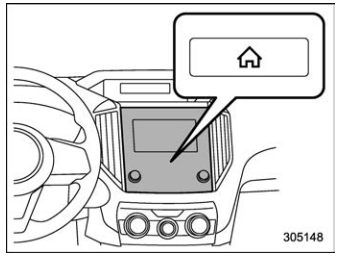 Press the

button. Select "Settings". Select "Vehicle". Select "Time/Date" and then select "Manual".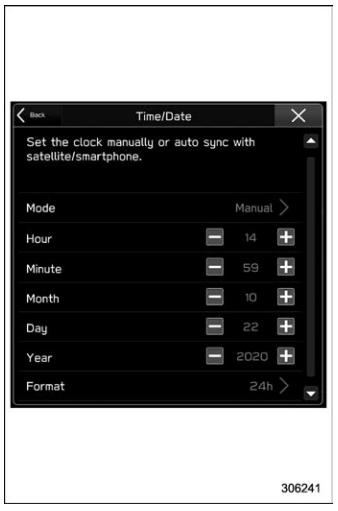 Set the each items plus and minus. Select

to complete the clock setting.