Subaru Forester: In case of emergency / Towing
If towing is necessary, it is best done by your SUBARU dealer or a commercial towing service. Observe the following procedures for safety.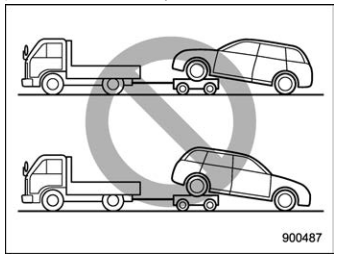 WARNING
Never tow AWD models with the front wheels raised off the ground while the rear wheels are on the ground, or with the rear wheels raised off the ground while the front wheels are on the ground. This will cause the vehicle to spin away due to the operation or deterioration of the center differential.
The towing hooks should be used only in an emergency. CAUTION Use only the specified towing hooks and tie-down hooks/holes. Never use suspension parts or other parts of the body for towing or tie-down purposes...
Other information:
Detecting range (width): Approximately 6 in (15 cm) outside of the vehicle width Range that the system cannot detect: Approximately 20 in (50 cm) behind the rear of the vehicle Detecting range (length): Approximately 5 ft (1.5 m) from the rear of the vehicle WARNING If your vehicle is trapped on a railroad crossing and you are trying to escape by reversing through the crossing gate, the system may recognize the crossing gate as an obstacle and the brake may activate...
U.S.-spec. models Except U.S.-spec. models NOTE The outside temperature indicator shows the temperature around the sensor. However, the temperature may not be indicated correctly or the update may be delayed in the following conditions...