Subaru Forester: In case of emergency / Towing
If towing is necessary, it is best done by your SUBARU dealer or a commercial towing service. Observe the following procedures for safety.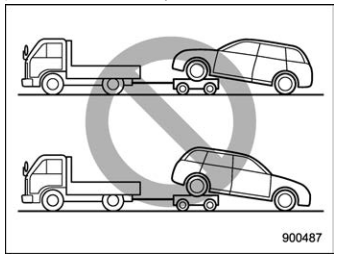 WARNING
Never tow AWD models with the front wheels raised off the ground while the rear wheels are on the ground, or with the rear wheels raised off the ground while the front wheels are on the ground. This will cause the vehicle to spin away due to the operation or deterioration of the center differential.
The towing hooks should be used only in an emergency. CAUTION Use only the specified towing hooks and tie-down hooks/holes. Never use suspension parts or other parts of the body for towing or tie-down purposes...
Other information:
The load capacity of your vehicle is determined by weight, not by available cargo space. The load limit of your vehicle is shown on the vehicle placard attached to the driver's side door pillar. Locate the statement "The combined weight of occupants and cargo should never exceed XXX kg or XXX lbs" on your vehicle's placard...
The wheels and tires are important and integral parts of your vehicle's design; they cannot be changed arbitrarily. The tires fitted as standard equipment are optimally matched to the characteristics of the vehicle and were selected to give the best possible combination of running performance, ride comfort, and service life...