Subaru Forester: Interior equipment / Ashtray (dealer option)
CAUTION
Do not use ashtrays as waste receptacles or leave a lighted cigarette in an ashtray. This could cause a fire.
Always extinguish matches and cigarettes before putting them into the ashtray, and then close the ashtray securely. If you keep the ashtray open, the fire of the cigarette may spread to another cigarette butt and start a fire.
Do not put flammable material in the ashtray.
Do not leave a lot of cigarette butts in the ashtray.
NOTE
Particles of ash and tobacco will accumulate around the hinges of the ashtray's inner lid. Clean them off using a toothbrush or a similar narrow-ended implement.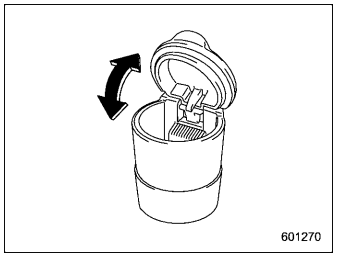 The portable ashtray can be installed in each cup holder or bottle holder. For the locations of the cup holders, refer to "Cup holders". For the locations of the bottle holders, refer to "Bottle holders".
When using the ashtray, open the lid of the ashtray. Fully close the lid after using the ashtray to help reduce residual smoke.
CAUTION If the floor mat slips forward and interferes with the movement of the pedals during driving, it could cause an accident. Observe the following precautions to prevent the floor mat from slipping forward...
Other information:
To clean the audio/navigation/multi-function display monitor, wipe it with a silicone cloth or with a soft cloth. If the monitor is extremely dirty, clean it with a soft cloth moistened with neutral detergent then carefully wipe off any remaining detergent...
When maintenance and service are required, it is recommended that all work be done by an authorized SUBARU dealer. If you perform maintenance and service by yourself, you should familiarize yourself with the information provided in this section on general maintenance and service for your SUBARU...