Subaru Forester: Warning and indicator / AT OIL TEMP warning light

If this light illuminates when the engine is running, it may indicate that the transmission fluid temperature is too hot.
If the light illuminates while driving, immediately stop the vehicle in a safe place and let the engine idle until the warning light turns off.
Transmission control system warning
If the "AT OIL TEMP" warning light flashes after the engine has started, it may indicate that the transmission control system is not working properly. Contact your nearest SUBARU dealer for service immediately.
When the ignition switch is turned to the "ON" position, the low tire pressure warning light will illuminate for approximately 2 seconds to check that the tire pressure monitoring system (TPMS) is functioning properly...
Other information:
The sum of four tires' maximum load ratings must exceed the maximum loaded vehicle weight ("GVWR"). In addition, sum of the maximum load ratings of two front tires and of two rear tires must exceed each axle's maximum loaded capacity ("GAWR")...
If a door or the rear gate is not completely closed, the interior lights will remain illuminated as a result. However, several lights are automatically turned off by the battery drainage prevention function to prevent the battery from discharging...
Categories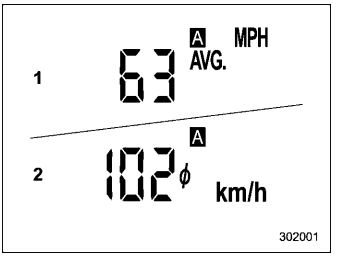 When units in miles is selected When units in km is selected
This display shows the average vehicle speed since the trip meter was last reset. Pressing the TRIP RESET switch toggles the display between the average vehicle speed corresponding to the A trip meter display and the average vehicle speed corresponding to the B trip meter display. When either of the trip meter displays is reset, the corresponding average vehicle speed value is also reset.