Subaru Forester: Meters and gauges / Double trip meter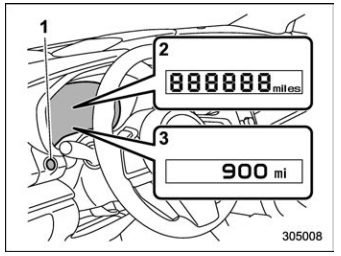 TRIP RESET switch
Type A combination meter
Type B combination meter
This meter displays the two trip meters when the ignition switch is in the "ON" position.
The trip meter shows the distance that the vehicle has been driven since you last set it to zero.
The display can be switched as shown in the following sequence by pressing the TRIP RESET switch.

To set the trip meter to zero, select the A trip or B trip meter by pressing the TRIP RESET switch and keep the knob pressed for more than 2 seconds.
CAUTION
To ensure safety, do not attempt to change the function of the indicator during driving, as an accident could result.
NOTE
TRIP RESET switch Type A combination meter Type B combination meter The fuel gauge is displayed when the ignition is in the "ON" position, and it shows the approximate amount of fuel remaining in the tank...
Other information:
To extend the cover, pull the end of the cover out of the housing, then insert its hooks into the catches as shown. To rewind it, unhook it from the catches and it will rewind automatically. You should hold on to the cover and guide it back into the cover housing while it is rewinding...
It may be difficult to replace the bulbs. We recommend that you have the bulb replaced by your SUBARU dealer if necessary. WARNING Bulbs may become very hot while illuminated. Before replacing bulbs, turn off the lights and wait until the bulbs cool down...
Categories
Free/Open Source Software Information
This product contains Free/Open Source Software (FOSS).
The license information and/or the source code of such FOSS can be found at the following URL.
http://www.globaldenso.com/en/opensource/ivi/subaru/