Subaru Forester: Meters and gauges / Double trip meter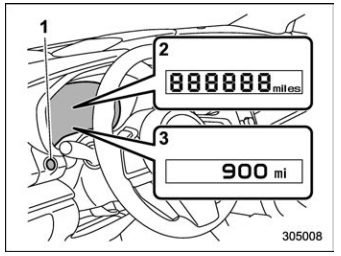 TRIP RESET switch
Type A combination meter
Type B combination meter
This meter displays the two trip meters when the ignition switch is in the "ON" position.
The trip meter shows the distance that the vehicle has been driven since you last set it to zero.
The display can be switched as shown in the following sequence by pressing the TRIP RESET switch.

To set the trip meter to zero, select the A trip or B trip meter by pressing the TRIP RESET switch and keep the knob pressed for more than 2 seconds.
CAUTION
To ensure safety, do not attempt to change the function of the indicator during driving, as an accident could result.
NOTE
TRIP RESET switch Type A combination meter Type B combination meter The fuel gauge is displayed when the ignition is in the "ON" position, and it shows the approximate amount of fuel remaining in the tank...
Other information:
The HomeLink® Wireless Control System provides a convenient way to replace up to three hand-held radio-frequency remotes used to activate devices such as gate operators, garage door openers, entry door locks, security systems, and even home lighting...
Alloy wheels can be scratched and damaged easily. Handle them carefully to maintain their appearance, performance, and safety. When any of the wheels are removed and replaced for tire rotation or to change a flat tire, always check the tightness of the wheel nuts after driving approximately 600 miles (1,000 km)...
Categories
Free/Open Source Software Information
This product contains Free/Open Source Software (FOSS).
The license information and/or the source code of such FOSS can be found at the following URL.
http://www.globaldenso.com/en/opensource/ivi/subaru/