Subaru Forester: Meters and gauges / Double trip meter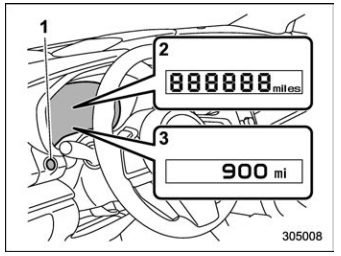 TRIP RESET switch
Type A combination meter
Type B combination meter
This meter displays the two trip meters when the ignition switch is in the "ON" position.
The trip meter shows the distance that the vehicle has been driven since you last set it to zero.
The display can be switched as shown in the following sequence by pressing the TRIP RESET switch.

To set the trip meter to zero, select the A trip or B trip meter by pressing the TRIP RESET switch and keep the knob pressed for more than 2 seconds.
CAUTION
To ensure safety, do not attempt to change the function of the indicator during driving, as an accident could result.
NOTE
TRIP RESET switch Type A combination meter Type B combination meter The fuel gauge is displayed when the ignition is in the "ON" position, and it shows the approximate amount of fuel remaining in the tank...
Other information:
Grease, wax, insects, or other material on the windshield or the wiper blade results in jerky wiper operation and streaking on the glass. If you cannot remove the streaks after operating the windshield washer or if the wiper operation is jerky, clean the outer surface of the windshield (or rear window) and the wiper blades using a sponge or soft cloth with a neutral detergent or mildabrasive cleaner...
NOTE All vehicle doors (including rear gate) and the engine hood must be closed prior to activating the remote engine start system. Any open entry point will prevent starting or cause the engine to stop. The remote engine start system is activated by pressing the fob button on your remote engine starter transceiver (fob) twice within 3 seconds...
Categories
Free/Open Source Software Information
This product contains Free/Open Source Software (FOSS).
The license information and/or the source code of such FOSS can be found at the following URL.
http://www.globaldenso.com/en/opensource/ivi/subaru/