Subaru Forester: Front tie-down hooks / Rear tie-down holes / Front tie-down hooks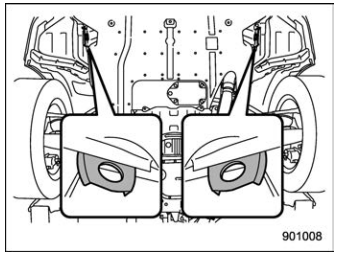 The front tie-down hooks are located between each of the front tires and the front bumper.
Rear tie-down hole The rear tie-down holes are located near each of the jack-up reinforcements. There is a plug in each rear tie-down hole. To use the rear tie-down holes, remove the plugs...
Other information:
Alloy wheels can be scratched and damaged easily. Handle them carefully to maintain their appearance, performance, and safety. When any of the wheels are removed and replaced for tire rotation or to change a flat tire, always check the tightness of the wheel nuts after driving approximately 600 miles (1,000 km)...
When the outside temperature is 378F (38C) or less, the icy road surface warning will illuminate to inform the driver that the road surface may be frozen. NOTE The outside temperature indicator shows the temperature in the area around the sensor...