Subaru Forester: Front tie-down hooks / Rear tie-down holes / Front tie-down hooks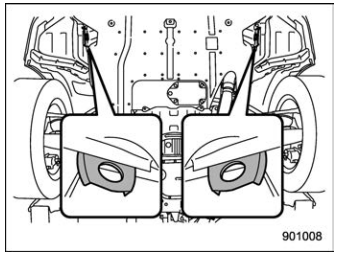 The front tie-down hooks are located between each of the front tires and the front bumper.
Rear tie-down hole The rear tie-down holes are located near each of the jack-up reinforcements. There is a plug in each rear tie-down hole. To use the rear tie-down holes, remove the plugs...
Other information:
If the select lever cannot be operated, turn the ignition switch back to the "ON" position then move the select lever to the "P" position with the select lever button pressed and the brake pedal depressed. If the select lever does not move after performing the above procedure, check and confirm the following and release the shift lock accordingly...
Lead vehicle indicator Your own vehicle indicator Stop lights Road line indicator Lane indicator Lane Centering indicator Steering wheel indicator This screen displays the status of the EyeSight system. The lead vehicle indicator moves forward and backward depending on the distance with the vehicle in front...