Subaru Forester: Front tie-down hooks / Rear tie-down holes / Front tie-down hooks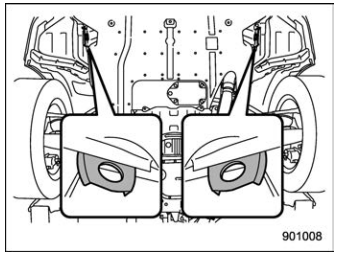 The front tie-down hooks are located between each of the front tires and the front bumper.
Rear tie-down hole The rear tie-down holes are located near each of the jack-up reinforcements. There is a plug in each rear tie-down hole. To use the rear tie-down holes, remove the plugs...
Other information:
WARNING There are some general precautions when starting the engine. Carefully read the precautions described in "Starting engine". If the indicator on the push-button ignition switch flashes in green after the engine has started, never drive the vehicle...
The sensitivity of the high beam assist function can be lowered by performing the following operations. Before turning the ignition switch to the "ON" position, set the light control switch to the "AUTO" position and push the signal lever forward (high beam position)...