Subaru Forester: Front tie-down hooks / Rear tie-down holes / Front tie-down hooks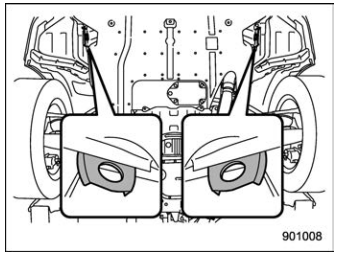 The front tie-down hooks are located between each of the front tires and the front bumper.
Rear tie-down hole The rear tie-down holes are located near each of the jack-up reinforcements. There is a plug in each rear tie-down hole. To use the rear tie-down holes, remove the plugs...
Other information:
WARNING NEVER INSTALL A CHILD SEAT IN THE FRONT SEAT. DOING SO RISKS SERIOUS INJURY OR DEATH TO THE CHILD BY PLACING THE CHILD'S HEAD TOO CLOSE TO THE SRS AIRBAG. Before installing a child restraint system, be sure to confirm that the seatback is securely locked into place...
Power steering warning light Power steering system features NOTE If the steering wheel is operated in the following ways, the power steering control system may temporarily limit the power assist in order to prevent the system components, such as the control computer and drive motor, from overheating...