Subaru Forester: Maintenance and service / Fuses
CAUTION
Never replace a fuse with one having a higher rating or with material other than a fuse because serious damage or a fire could result.
The fuses are designed to melt during an overload to prevent damage to the wiring harness and electrical equipment. The fuses are located in two fuse boxes.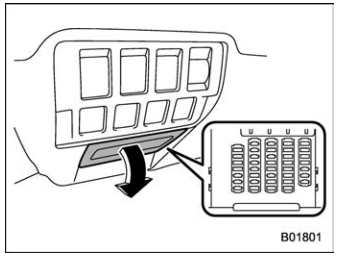 One is located under the instrument panel behind the fuse box cover on the driver's seat side. To remove the cover, pull it out.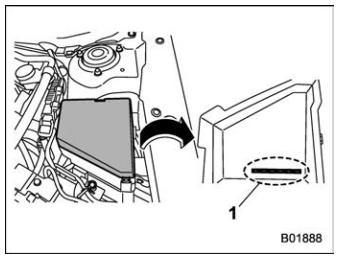 Spare fuses
The other one (main fuse box) is housed in the engine compartment. Also, the spare fuses are stored in the fuse box cover.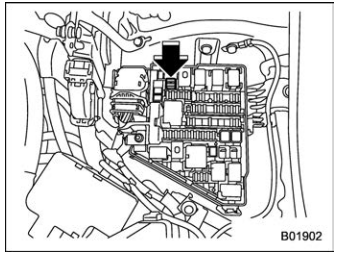 The fuse puller is stored in the main fuse box in the engine compartment.
Pinch the upper part of the fuse puller when removing it from the main fuse box.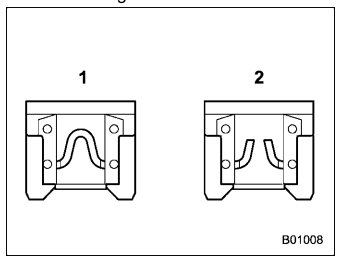 Good
Blown
If any lights, accessories or other electrical controls do not operate, inspect the corresponding fuse. If a fuse has blown, replace it.
Turn the ignition switch to the "LOCK"/ "OFF" position and turn off all electrical accessories.
Remove the cover.
Determine which fuse may be blown. Look at the back side of each fuse box cover and refer to "Fuses and circuits".

Pull out the fuse with the fuse puller.
Inspect the fuse. If it has blown, replace it with a spare fuse of the same rating.
If the same fuse blows again, this indicates that its system has a problem. Contact your SUBARU dealer for repairs.
Always consult your SUBARU dealer before installing fog lights or any other electrical equipment in your vehicle. Such accessories may cause the electronic system to malfunction if they are incorrectly installed or if they are not suited for the vehicle...
Other information:
Right turn Lane change right signal Lane change left signal Left turn If the lever does not return after cornering, return the lever to the neutral position by hand. To signal a lane change, push the turn signal lever up or down slightly and hold it during the lane change...
ON DOOR OFF The dome light switch has the following three positions. ON: The light remains on continuously. OFF: The light remains off. DOOR: The dome light illuminates automatically in the following cases. Any of the doors or the rear gate is opened...