Subaru Forester: Maintenance and service / Battery
WARNING
Before beginning work on or near any battery, be sure to extinguish all cigarettes, matches, and lighters. Never expose a battery to an open flame or electric sparks. Batteries give off a gas which is highly flammable and explosive.
For safety, in case an explosion does occur, wear eye protection or shield your eyes when working near any battery. Never lean over a battery.
Do not let battery fluid contact eyes, skin, fabrics, or paint because battery fluid is a corrosive acid. If battery fluid gets on your skin or in your eyes, immediately flush the area with water thoroughly. Seek medical help immediately if acid has entered the eyes.

If battery fluid is accidentally swallowed, immediately drink a large amount of milk or water, and seek medical attention immediately.

To lessen the risk of sparks, remove rings, metal watchbands, and other metal jewelry. Never allow metal tools to contact the positive battery terminal and anything connected to it WHILE you are at the same time in contact with any other metallic portion of the vehicle because a short circuit will result.
Keep everyone including children away from the battery.
Charge the battery in a wellventilated area.
Battery posts, terminals and related accessories contain lead and lead compounds, chemicals known to the State of California to cause cancer and reproductive harm. Batteries also contain other chemicals known to the State of California to cause cancer. Wash hands after handling.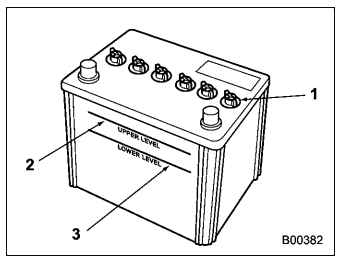 Cap
Upper level
Lower level
It is unnecessary to periodically check the battery fluid level or periodically refill with distilled water.
However, if the battery fluid level is below the lower level, remove the cap. Fill to the upper level with distilled water.
CAUTION
Never use more than 10 A when charging the battery because it will shorten battery life.
It is unnecessary to periodically check the battery fluid level or periodically refill with distilled water.
For "STARLINK Safety and Security without navigation system":
When the vehicle battery is discharged or replaced, the audio unit needs to be paired with a smartphone via bluetooth for some settings. For details about how to pair, refer to the separate navigation/audio Owner's Manual.
CAUTION Never replace a fuse with one having a higher rating or with material other than a fuse because serious damage or a fire could result. The fuses are designed to melt during an overload to prevent damage to the wiring harness and electrical equipment...
Other information:
The sum of four tires' maximum load ratings must exceed the maximum loaded vehicle weight ("GVWR"). In addition, sum of the maximum load ratings of two front tires and of two rear tires must exceed each axle's maximum loaded capacity ("GAWR")...
When the alarm system is armed, it is triggered by the opening any of the doors, the rear gate or engine hood. The alarm system will activate the following alarms when triggered. The vehicle's horn will sound for 30 seconds. The hazard warning flashers will flash for 30 seconds...
Categories
The outside temperature is displayed on the multi-function display (color LCD).
NOTE
The outside temperature indicator shows the temperature around the sensor. However, the temperature may not be indicated correctly or the update may be delayed in the following conditions. While parking or driving at low speeds When the outside temperature changes suddenly (example: when going in and out of an underground parking area or when passing through a tunnel) When starting the engine after being parked for a certain period of time The temperature unit cannot be changed.