Subaru Forester: Trailer towing / Gross Vehicle Weight (GVW) and Gross Vehicle Weight Rating (GVWR)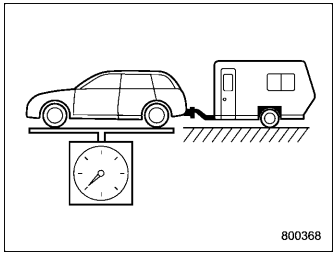 Gross Vehicle Weight
The Gross Vehicle Weight (GVW) must never exceed the Gross Vehicle Weight Rating (GVWR).
Gross Vehicle Weight (GVW) is the combined total of the weight of the vehicle, driver, passengers, luggage, trailer hitch, trailer tongue load and any other optional equipment installed on your vehicle. Therefore, the GVW changes depending on the situation. Determine the GVW each time before going on a trip by putting your vehicle and trailer on a vehicle scale.
Certification label
GVWR of your vehicle that is given by SUBARU is shown on the certification label located at the bottom of driver's side door pillar of your vehicle.
WARNING Never exceed the maximum load limits explained in the follo..
Gross Axle Weight The total weight applied to each axle (GAW) must never exceed the Gross Axle Weight Rating (GAWR). The front and rear GAWs can be adjusted by relocating passengers and luggage inside the vehicle...
Other information:
The vehicle is involved in frontal collision with another vehicle (moving or stationary). The vehicle is struck from behind. The vehicle pitches end over end. In the event of accidents like those illustrated, the SRS side airbag and SRS curtain airbag are not designed to deploy in most cases...
WARNING Always maintain a safe driving speed according to the road and weather conditions in order to avoid having an accident on a sharp turn, during sudden braking or under other similar conditions. Always use the utmost care in driving – overconfidence because you are driving an All-Wheel Drive vehicle could easily lead to a serious accident...
Categories
Turn the ignition switch to "ON".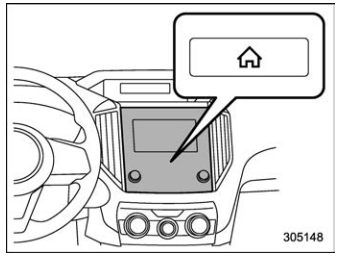 Press the

button. Select "Settings". Select "Vehicle". Select "Time/Date" and then select "Manual".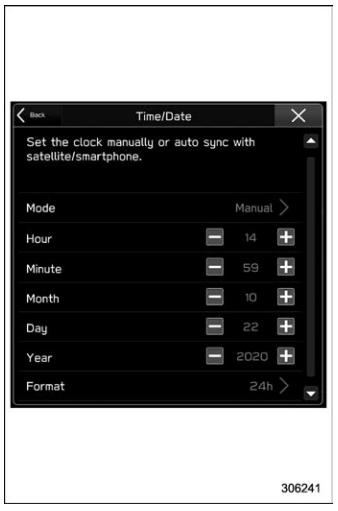 Set the each items plus and minus. Select

to complete the clock setting.