Subaru Forester: Trailer towing / Gross Vehicle Weight (GVW) and Gross Vehicle Weight Rating (GVWR)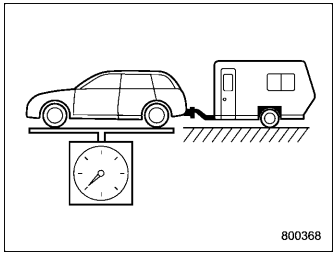 Gross Vehicle Weight
The Gross Vehicle Weight (GVW) must never exceed the Gross Vehicle Weight Rating (GVWR).
Gross Vehicle Weight (GVW) is the combined total of the weight of the vehicle, driver, passengers, luggage, trailer hitch, trailer tongue load and any other optional equipment installed on your vehicle. Therefore, the GVW changes depending on the situation. Determine the GVW each time before going on a trip by putting your vehicle and trailer on a vehicle scale.
Certification label
GVWR of your vehicle that is given by SUBARU is shown on the certification label located at the bottom of driver's side door pillar of your vehicle.
WARNING Never exceed the maximum load limits explained in the follo..
Gross Axle Weight The total weight applied to each axle (GAW) must never exceed the Gross Axle Weight Rating (GAWR). The front and rear GAWs can be adjusted by relocating passengers and luggage inside the vehicle...
Other information:
If the select lever cannot be operated, turn the ignition switch back to the "ON" position then move the select lever to the "P" position with the select lever button pressed and the brake pedal depressed. If the select lever does not move after performing the above procedure, check and confirm the following and release the shift lock accordingly...
The catalytic converter is installed in the exhaust system. It serves as a catalyst to reduce HC, CO and NOx in exhaust gases, thus providing cleaner exhaust. To avoid damage to the catalytic converter: Use only unleaded fuel. Even a small amount of leaded fuel will damage the catalytic converter...
Categories
Turn the ignition switch to "ON".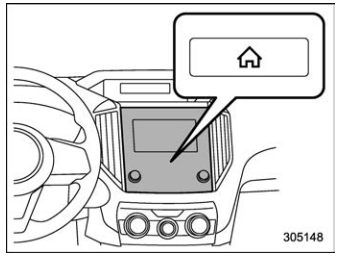 Press the

button. Select "Settings". Select "Vehicle". Select "Time/Date" and then select "Manual".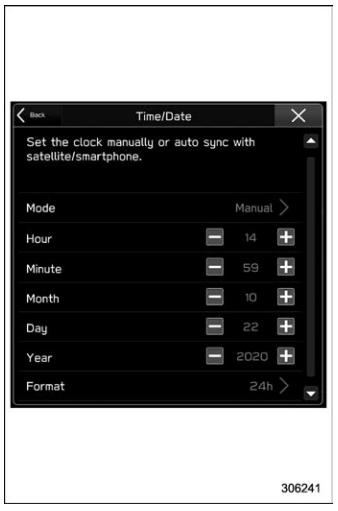 Set the each items plus and minus. Select

to complete the clock setting.