Subaru Forester: Trailer towing / Gross Axle Weight (GAW) and Gross Axle Weight Rating (GAWR)
Gross Axle Weight
The total weight applied to each axle (GAW) must never exceed the Gross Axle Weight Rating (GAWR). The front and rear GAWs can be adjusted by relocating passengers and luggage inside the vehicle. The front and rear GAWR of your vehicle that is given by SUBARU are also shown on the certification label located at the bottom of driver's side door pillar.
To check both GVWR and GAWR and to confirm that the total weight and weight distribution are within safe driving limits, you should have your vehicle and trailer weighed at a commercial weighing station. Be sure that all cargo is firmly secured to prevent a change in weight distribution while driving.
Gross Vehicle Weight The Gross Vehicle Weight (GVW) must never exceed the Gross Vehicle Weight Rating (GVWR). Gross Vehicle Weight (GVW) is the combined total of the weight of the vehicle, driver, passengers, luggage, trailer hitch, trailer tongue load and any other optional equipment install..
Tongue load Ensure that the trailer tongue load is from 8 to 11% of the total trailer weight and does not exceed the maximum value of 150 lbs (68 kg)...
Other information:
Operation indicator Push-button ignition switch The power is switched every time the push-button ignition switch is pressed. Carry the access key fob, and sit in the driver's seat. Shift the select lever into the "P"/"N" position...
Release button Emergency key While pressing the release button of the access key fob, take out the emergency key. Lock or unlock the driver's door with the emergency key in the procedure described in "Locking and unlocking from the outside"...
Categories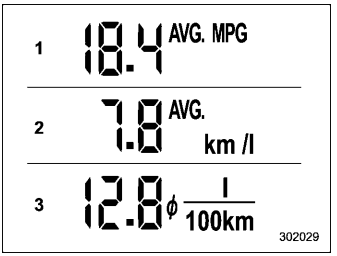 Displays the driving range per gallon of fuel Displays the driving range per liter of fuel Displays the fuel consumption per 100 km
This display shows the average rate of fuel consumption since the trip meter was last reset.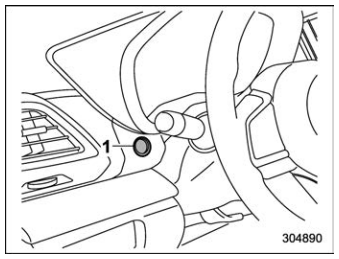 TRIP RESET switch