Subaru Forester: Trailer towing / Tongue load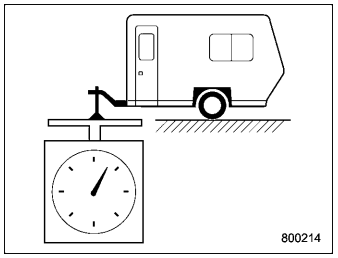 Tongue load
Ensure that the trailer tongue load is from 8 to 11% of the total trailer weight and does not exceed the maximum value of 150 lbs (68 kg).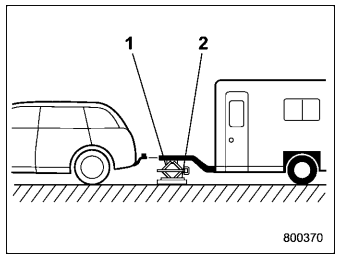 Jack
Bathroom scale
The tongue load can be weighed with a bathroom scale as shown in the illustration above. When weighing the tongue load, be sure to position the towing coupler at the height at which it would be during actual towing, using a jack as shown.
F: Front
The tongue load can be adjusted by proper distribution of the load in the trailer. Never load the trailer with more weight in the back than in the front; approximately 60 percent of the trailer load should be in the front and approximately 40 percent in the rear. Also, distribute the load as evenly as possible on both the left and right sides. Be sure that all cargo is firmly secured to prevent a change in weight distribution while driving.
WARNING
If the trailer is loaded with more weight in the back of trailer's axle than in the front, the load is taken off the rear axle of the towing vehicle. This may cause the rear wheels to skid, especially during braking or when vehicle speed is reduced during cornering, resulting in oversteer, spin out and/or jackknifing.
WARNING Never drill the frame or under-body of your vehicle to install a commercial trailer hitch. If you do, dangerous exhaust gas, water or mud may enter the passenger compartment through the drilled hole...
Other information:
Users can be registered in the Driver Monitoring System, and registered users can be deleted. For the user registration and delete procedures, refer to "Driver Monitoring System settings". NOTE When the Driver Monitoring System OFF indicator, Driver Monitoring System temporary stop indicator, or Driver Monitoring System warning is illuminated, the following items cannot be selected...
CAUTION Tire chains cannot be used on your vehicle because of the lack of clearance between the tires and vehicle body. NOTE When tire chains cannot be used, use of another type of traction device (such as spring chains) may be acceptable if use on your vehicle is recommended by the device manufacturer, taking into account tire size and road conditions...
Categories
Free/Open Source Software Information
This product contains Free/Open Source Software (FOSS).
The license information and/or the source code of such FOSS can be found at the following URL.
http://www.globaldenso.com/en/opensource/ivi/subaru/