Subaru Forester: Locking and unlocking from the outside / How to lock and unlock the vehicle using the key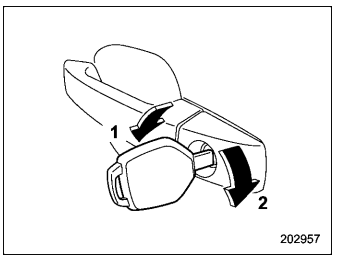 Rotate the key toward the front to lock.
Rotate the key toward the rear to unlock.
In this case, only the driver's side door is locked or unlocked.
NOTE
Models with "keyless access with push-button start system":
The emergency key is directional. If the key cannot be inserted, change the direction that the grooved side is facing and insert it again.
To lock the door from outside without the key, the following methods are available. Locking using lock lever Rotate the lock lever forward. Close the door...
Other information:
WARNING Only use a four-wheel dynamometer when testing an All-Wheel Drive model. Testing of an AWD model must NEVER be performed on a single two-wheel dynamometer. Attempting to do so will result in uncontrolled vehicle movement and may cause an accident or injuries to persons nearby...
WARNING If you wear an implanted pacemaker or an implanted defibrillator, stay at least 8.7 in (22 cm) away from the transmitting antennas installed on the vehicle. The radio waves from the transmitting antennas on the vehicle could adversely affect the operation of implanted pacemakers and implanted defibrillators...
Categories
The outside temperature is displayed on the multi-function display (color LCD).
NOTE
The outside temperature indicator shows the temperature around the sensor. However, the temperature may not be indicated correctly or the update may be delayed in the following conditions. While parking or driving at low speeds When the outside temperature changes suddenly (example: when going in and out of an underground parking area or when passing through a tunnel) When starting the engine after being parked for a certain period of time The temperature unit cannot be changed.