Subaru Forester: Inattentive/drowsy driving warning / Inattentive driving warning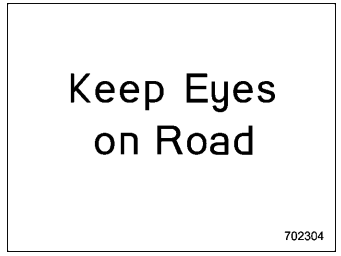 When the system monitors that the driver may be inattentive, it warns the driver. When the inattentive driving warning activates, the buzzer sounds and an interrupt display appears on the combination meter display.
When the EyeSight system has detected a vehicle ahead or obstacle in the forward direction, the inattentive driving warning may activate at earlier timing than usual. Refer to the Owner's Manual supplement for the EyeSight system.
Drowsy driving warning

Driver Monitoring System operation indicator light (green) Driver Monitoring System OFF indicator light Driver Monitoring System temporary stop indicator light Driver Monitoring System warning light (yellow) The Driver Monitoring System indicator/ warning indicates the status of the ..

Other information:

While closing the window automatically, if the window senses a substantial enough object trapped between the window and the window frame, it automatically moves down slightly and stops. If a foreign object is caught while window is opening automatically, the window will stop...

A head-on collision against a thick concrete wall at a vehicle speed of 12 to 19 mph (20 to 30 km/h) or higher activates only the driver's SRS frontal airbag or both driver's and front passenger's SRS frontal airbags. The airbag(s) will also be activated when the vehicle is exposed to a frontal impact similar in fashion and magnitude to the collision described above...