Subaru Forester: Seat heater (if equipped) / Rear seat heater (if equipped)
CAUTION
Do not open and close the center console lid while operating the rear seat heater switch. There is the risk of fingers being caught in the lid.
The seat heater operates when the ignition switch is in the "ON" position.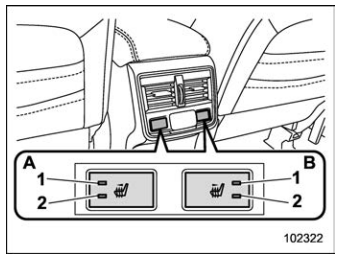 Rear seat heater switch
HIGH mode indicators
LOW mode indicators
Left-hand side
Right-hand side
Press the rear seat heater switch. Each time you press the switch, the mode will change as follows.

When LOW mode is selected, the LOW mode indicator on the rear seat heater switch illuminates. When HIGH mode is selected, both the LOW and HIGH mode indicators illuminate. When the OFF mode is selected, all the indicators turn off.
Selecting "HIGH" mode will cause the seat to heat up quicker.
NOTE
Only the front seat heater switches retain the previous switch position even if the vehicle has restarted. The rear seat heater switch will reset.
Other information:
Access key fob Lock button An access key fob can be used as the remote engine start transmitter. Operate the lock button to start or stop the engine as follows. Before starting the engine Before using the remote engine start system to start the engine, confirm the following conditions...
WARNING Adding weight to the vehicle's roof can adversely affect handling, braking, and rollover resistance. The vehicle must never be driven with a total roof rail load in excess of 176 lbs (80 kg). CAUTION The roof rail load limit for stationary vehicles (700 lbs (317 kg)) applies only when the vehicle is parked and the load is evenly distributed left/right and front/ rear and the roof crossbars and roof tent are tightly secured to the vehicle...