Subaru Forester: Seat heater (if equipped) / Rear seat heater (if equipped)
CAUTION
Do not open and close the center console lid while operating the rear seat heater switch. There is the risk of fingers being caught in the lid.
The seat heater operates when the ignition switch is in the "ON" position.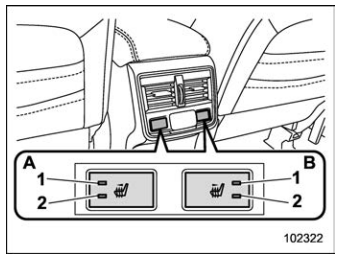 Rear seat heater switch
HIGH mode indicators
LOW mode indicators
Left-hand side
Right-hand side
Press the rear seat heater switch. Each time you press the switch, the mode will change as follows.

When LOW mode is selected, the LOW mode indicator on the rear seat heater switch illuminates. When HIGH mode is selected, both the LOW and HIGH mode indicators illuminate. When the OFF mode is selected, all the indicators turn off.
Selecting "HIGH" mode will cause the seat to heat up quicker.
NOTE
Only the front seat heater switches retain the previous switch position even if the vehicle has restarted. The rear seat heater switch will reset.
Other information:
Using an electronic chirp, the system will give you an audible signal when the doors lock and unlock. If desired, you may turn the audible signal off. Perform the following steps to deactivate the audible signal. You can also use the same steps to restore the function...
Front fog light (if equipped) It may be difficult to replace the bulbs. Have the bulbs replaced by your SUBARU dealer if necessary. Rear turn signal lights Use a screwdriver to remove the secured clips of the covers. Push and move the cover to the forward to unlock the 2 tabs...