Subaru Forester: Seat heater (if equipped) / Rear seat heater (if equipped)
CAUTION
Do not open and close the center console lid while operating the rear seat heater switch. There is the risk of fingers being caught in the lid.
The seat heater operates when the ignition switch is in the "ON" position.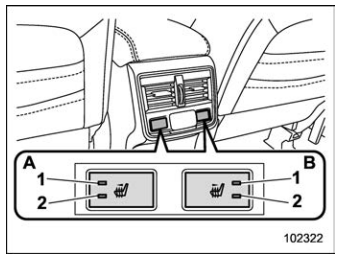 Rear seat heater switch
HIGH mode indicators
LOW mode indicators
Left-hand side
Right-hand side
Press the rear seat heater switch. Each time you press the switch, the mode will change as follows.

When LOW mode is selected, the LOW mode indicator on the rear seat heater switch illuminates. When HIGH mode is selected, both the LOW and HIGH mode indicators illuminate. When the OFF mode is selected, all the indicators turn off.
Selecting "HIGH" mode will cause the seat to heat up quicker.
NOTE
Only the front seat heater switches retain the previous switch position even if the vehicle has restarted. The rear seat heater switch will reset.
Other information:
If the booster seat makes contact with the head restraint of the rear seating position where the booster seat is to be installed, raise the head restraint to the extended position. If the booster seat still makes contact, remove the head restraint...
General precautions when starting engine WARNING Never start the engine from outside the vehicle (except when using the remote engine start system). It may result in an accident. Do not leave the engine running in locations with poor ventilation, such as a garage and indoors...