Subaru Forester: Seat heater (if equipped) / Rear seat heater (if equipped)
CAUTION
Do not open and close the center console lid while operating the rear seat heater switch. There is the risk of fingers being caught in the lid.
The seat heater operates when the ignition switch is in the "ON" position.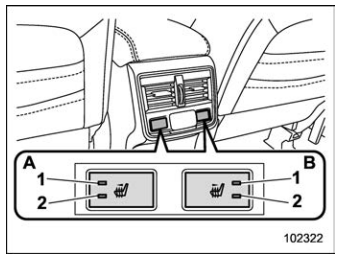 Rear seat heater switch
HIGH mode indicators
LOW mode indicators
Left-hand side
Right-hand side
Press the rear seat heater switch. Each time you press the switch, the mode will change as follows.

When LOW mode is selected, the LOW mode indicator on the rear seat heater switch illuminates. When HIGH mode is selected, both the LOW and HIGH mode indicators illuminate. When the OFF mode is selected, all the indicators turn off.
Selecting "HIGH" mode will cause the seat to heat up quicker.
NOTE
Only the front seat heater switches retain the previous switch position even if the vehicle has restarted. The rear seat heater switch will reset.
Other information:
The vehicle strikes an object, such as a telephone pole or sign pole. The vehicle slides under the load bed of a truck. The vehicle sustains an oblique offset frontal impact. The vehicle sustains an offset frontal collision. The vehicle strikes an object that can move or deform, such as a parked vehicle...
The continuously variable transmission is electronically controlled and provides an infinite number of forward speeds and 1 reverse speed. It also has a manual mode or an "L" position. NOTE When the engine coolant temperature is still low, the transmission will shift at higher engine speeds than when the coolant temperature is sufficiently high in order to shorten the warm-up time and improve driveability...