Subaru Forester: Seat heater (if equipped) / Rear seat heater (if equipped)
CAUTION
Do not open and close the center console lid while operating the rear seat heater switch. There is the risk of fingers being caught in the lid.
The seat heater operates when the ignition switch is in the "ON" position.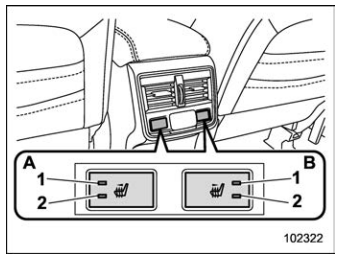 Rear seat heater switch
HIGH mode indicators
LOW mode indicators
Left-hand side
Right-hand side
Press the rear seat heater switch. Each time you press the switch, the mode will change as follows.

When LOW mode is selected, the LOW mode indicator on the rear seat heater switch illuminates. When HIGH mode is selected, both the LOW and HIGH mode indicators illuminate. When the OFF mode is selected, all the indicators turn off.
Selecting "HIGH" mode will cause the seat to heat up quicker.
NOTE
Only the front seat heater switches retain the previous switch position even if the vehicle has restarted. The rear seat heater switch will reset.
Other information:
If the light is blinking while driving, an engine misfire condition has been detected which may damage the emission control system. To prevent serious damage to the emission control system, you should do the following. Reduce vehicle speed. Avoid hard acceleration...
You can set the climate control settings. Mode Setting Select "Mode Setting" from the 2nd menu in the setting screen. Refer to "Setting screen". Select "Normal", "Mild", "Power" or "ECO" by using the control switches. For details about "Mode Setting", refer to "Automatic climate control customization (for type B and C)"...