Subaru Forester: Tire information / Recommended tire inflation pressure
Recommended cold tire inflation pressure
For recommended cold tire inflation pressure for your vehicle's tires, refer to "Tires".
Vehicle placard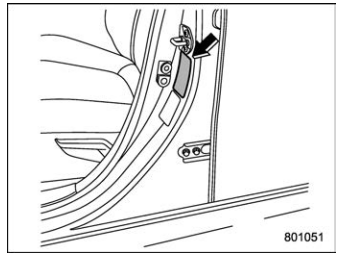 The vehicle placard is attached to the driver's side door pillar.
Example: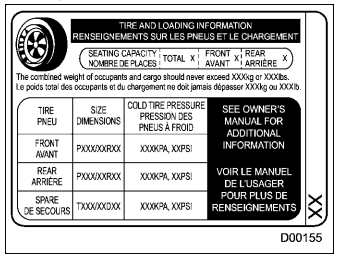 The vehicle placard shows original tire size, recommended cold tire inflation pressure on each tire at maximum loaded vehicle weight, seating capacity and loading information.
Adverse safety consequences of under-inflation
Driving at high speeds with excessively low tire pressures can cause the tires to flex severely and to rapidly become hot. A sharp increase in temperature could cause tread separation, and failure of the tire(s). Possible resulting loss of vehicle control could lead to an accident.
Measuring and adjusting air pressure to achieve proper inflation
Check and, if necessary, adjust the pressure of each tire (including the spare) at least once a month and before any long journey. Check the tire pressures when the tires are cold. Use a pressure gauge to adjust the tire pressures to the specific values. Driving even a short distance warms up the tires and increases the tire pressures. Also, the tire pressures are affected by the outside temperature. It is best to check tire pressure outdoors before driving the vehicle. When a tire becomes warm, the air inside it expands, causing the tire pressure to increase. Be careful not to mistakenly release air from a warm tire to reduce its pressure.
Accessory weight The combined weight (in excess of those standard items which may be replaced) of automatic transmission, power steering, power brakes, power windows, power seats, radio, and heater, to the extent that these items are available as factory-installed equipment (whether instal..
Other information:
WARNING Seat children in the rear seat properly restrained at all times. The SRS airbag deploys with considerable speed and force and can injure or even kill children, especially if they are not restrained or improperly restrained. Because children are lighter and weaker than adults, their risk of being injured from deployment is greater...
When the ignition switch is in the "ON" position, the instrument panel illumination, headlights, parking lights, front side marker lights, rear side marker lights, tail lights and license plate lights are automatically on or off depending on the level of the ambient light...