Subaru Forester: Maintenance and service / Replacement of brake pad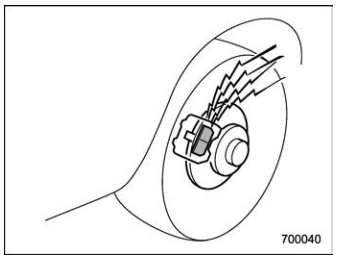 The disc brakes have audible wear indicators on the brake pads. If the brake pads wear close to their service limit, the wear indicator makes a very audible scraping noise when the brake pedal is applied.
If you hear this scraping noise each time you apply the brake pedal, have the brake pads serviced by your SUBARU dealer as soon as possible.
CAUTION
If you continue to drive despite the scraping noise from the audible brake pad wear indicator, it will result in the need for costly brake rotor repair or replacement.
Breaking-in of new brake pads
When replacing the brake pad, use only genuine SUBARU parts. After replacement, the new parts must be broken in. Contact your SUBARU dealer for details.
Other information:
To extend the cover, pull the end of the cover out of the housing, then insert its hooks into the catches as shown. To rewind it, unhook it from the catches and it will rewind automatically. You should hold on to the cover and guide it back into the cover housing while it is rewinding...
To turn the compass feature on/off, press and hold the switch for more than 3 seconds or until the display turns on/off. The compass feature will default to on with each ignition cycle. If the display reads "C", slowly drive the vehicle in circles until compass is calibrated...