Subaru Forester: Maintenance and service / Replacement of brake pad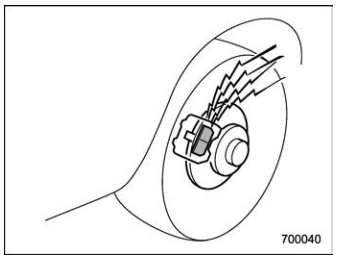 The disc brakes have audible wear indicators on the brake pads. If the brake pads wear close to their service limit, the wear indicator makes a very audible scraping noise when the brake pedal is applied.
If you hear this scraping noise each time you apply the brake pedal, have the brake pads serviced by your SUBARU dealer as soon as possible.
CAUTION
If you continue to drive despite the scraping noise from the audible brake pad wear indicator, it will result in the need for costly brake rotor repair or replacement.
Breaking-in of new brake pads
When replacing the brake pad, use only genuine SUBARU parts. After replacement, the new parts must be broken in. Contact your SUBARU dealer for details.
Other information:
Pull out the end of the blade rubber assembly to unlock it from the plastic support. Pull the blade rubber assembly out of the plastic support. Metal spines If the new blade rubber is not provided with two metal spines, remove the metal spines from the old blade rubber and install them in the new blade rubber...
Overloading could affect vehicle handling, stopping distance, and vehicle and tire performance in the following ways. This could lead to an accident and possibly result in severe personal injury. Vehicle stability will deteriorate. Heavy and/or high-mounted loads could increase the risk of rollover...