Subaru Forester: Maintenance and service / Replacement of brake pad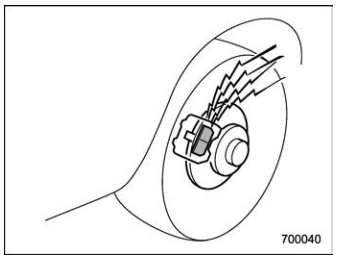 The disc brakes have audible wear indicators on the brake pads. If the brake pads wear close to their service limit, the wear indicator makes a very audible scraping noise when the brake pedal is applied.
If you hear this scraping noise each time you apply the brake pedal, have the brake pads serviced by your SUBARU dealer as soon as possible.
CAUTION
If you continue to drive despite the scraping noise from the audible brake pad wear indicator, it will result in the need for costly brake rotor repair or replacement.
Breaking-in of new brake pads
When replacing the brake pad, use only genuine SUBARU parts. After replacement, the new parts must be broken in. Contact your SUBARU dealer for details.
Other information:
With the ignition switch turned to the "ON" position, this device reminds the driver and front passenger to fasten their seatbelts by illuminating the warning lights in the locations indicated in the following illustration and sounding a chime...
Gross Vehicle Weight The Gross Vehicle Weight (GVW) must never exceed the Gross Vehicle Weight Rating (GVWR). Gross Vehicle Weight (GVW) is the combined total of the weight of the vehicle, driver, passengers, luggage, trailer hitch, trailer tongue load and any other optional equipment installed on your vehicle...