Subaru Forester: Replacing key battery / Replacing transmitter battery
Battery: Button battery CR1620 or equivalent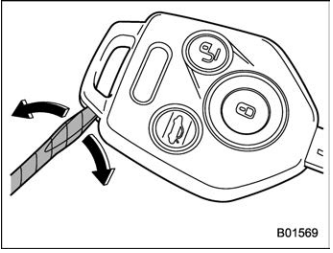 Wrap a flat-head screwdriver with vinyl tape or a cloth. Open the key head using a flat-head screwdriver.

Remove the transmitter case from the key head.

Open the transmitter case by releasing the hooks.

Negative (−) side facing up

Replace the old battery with a new battery making sure to install the new battery with the negative (−) side facing up.
Put together the transmitter case by fitting the hooks on the case.
Reinstall the transmitter case in the key head.
Refit the removed half of the key head.
Other information:
You should be familiar with the type of tires present on your vehicle. All season tires All season tires are designed to provide an adequate measure of traction, handling and braking performance in year-round driving including snowy and icy road conditions...
The SRS side airbag and SRS curtain airbag are designed as follows: To deploy in the event of an accident involving a moderate to severe side impact collision To function on a one-time-only basis The SRS side airbag and SRS curtain airbag are not designed to deploy in the following cases: In most lesser side impacts In most frontal or most rear impacts (because the SRS side airbag and SRS curtain airbag deployment would not protect the occupant in those situations) The SRS curtain airbags are also designed to deploy when the vehicle is in an extremely inclined state such as during a rollover...
Categories
Free/Open Source Software Information
This product contains Free/Open Source Software (FOSS).
The license information and/or the source code of such FOSS can be found at the following URL.
http://www.globaldenso.com/en/opensource/ivi/subaru/