Subaru Forester: Cooling system / Safety precautions
WARNING
Never attempt to remove the radiator cap until the engine has been shut off and has cooled down completely. Since the coolant is under pressure, you may suffer serious burns from a spray of boiling hot coolant when the cap is removed.
CAUTION
Vehicles are filled at the factory with SUBARU SUPER COOLANT that does not require the first change for 11 years/137,500 miles (11 years/220,000 km). This coolant should not be mixed with any other brand or type of coolant during this period. Mixing with a different coolant will reduce the life of the coolant. Should it be necessary to add the coolant for any reason, use only SUBARU SUPER COOLANT. If the SUBARU SUPER COOLANT is diluted with another brand or type, the maintenance interval is shortened to that of the mixing coolant.
Do not splash the engine coolant over painted parts. The alcohol contained in the engine coolant may damage the paint surface.
Your vehicle employs an electric cooling fan which is thermostatically controlled to operate when the engine coolant reaches a specific temperature...
Other information:
Seatbelt warning light and chime Front seatbelts Adjust the seat position according to the following procedure.Driver's seat: Adjust the seatback to the upright position. Move the seat as far from the steering wheel as practical while still maintaining full vehicle control...
This information indicates the relative performance of passenger car tires in the area of treadwear, traction, and temperature resistance. This is to aid the consumer in making an informed choice in the purchase of tires. Quality grades can be found where applicable on the tire sidewall between tread shoulder and maximum section width...
Categories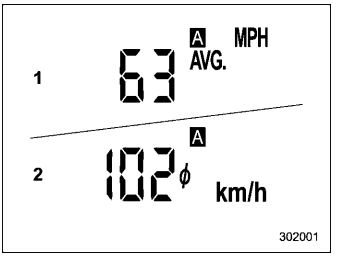 When units in miles is selected When units in km is selected
This display shows the average vehicle speed since the trip meter was last reset. Pressing the TRIP RESET switch toggles the display between the average vehicle speed corresponding to the A trip meter display and the average vehicle speed corresponding to the B trip meter display. When either of the trip meter displays is reset, the corresponding average vehicle speed value is also reset.