Subaru Forester: Starting and operating / Electronic Brake Force Distribution (EBD) system
The EBD system maximizes the effectiveness of the brakes by allowing the rear brakes to supply a greater proportion of the braking force. It functions by adjusting the distribution of braking force to the rear wheels in accordance with the vehicle's loading condition and speed.
The EBD system is an integral part of the ABS and uses some of the ABS components to perform its function of optimizing the distribution of braking force. If any of the ABS components used by the EBD system malfunction, the EBD system also stops working.
When the EBD system is operating, you may hear a chattering noise or feel a slight vibration in the brake pedal. This is normal and does not indicate a malfunction.
If EBD system malfunctions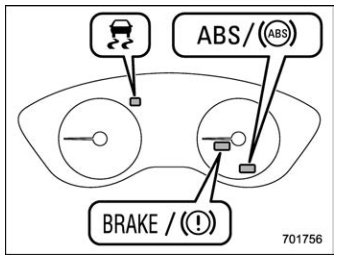 If a malfunction occurs in the EBD system, the system stops working and the following warning lights illuminate simultaneously.
Brake system warning light
ABS warning light
Vehicle Dynamics Control warning light
If the both warning light remains on even though the parking brake is released, the brake fluid level may be low or there could be a problem with the EBD system. Park the vehicle in a safe place immediately and contact a Subaru dealer.
WARNING
Driving with the brake system warning light illuminated is dangerous. This indicates your brake system may not be working properly. If the light remains illuminated, have the brakes inspected by a SUBARU dealer immediately.
If at all in doubt about whether the brakes are operating properly, do not drive the vehicle. Have your vehicle towed to the nearest SUBARU dealer for repair.
Other information:
The performance and long life of your vehicle are dependent on how you handle and care for your vehicle while it is new. Follow these instructions during the first 1,000 miles (1,600 km): Do not race the engine. And do not allow engine speed to exceed 4,000 rpm except in an emergency...
Two separate circuits Your vehicle has two separate circuit brake systems. Each circuit works diagonally across the vehicle. If one circuit of the brake system should fail, the other half of the system still works. If one circuit fails, the brake pedal will go down much closer to the floor than usual and you will need to press it down much harder...