Subaru Forester: Seatbelts / SeatBelt Inspection
To clean the seatbelts, use a mild soap and lukewarm water. Never bleach or dye the belts because this could seriously affect their strength.
Inspect the seatbelts and attachments including the webbing and all hardware periodically for cracks, cuts, gashes, tears, damage, loose bolts or worn areas. Replace the seatbelts even if only minor damage is found.
CAUTION
Keep the belts free of polishes, oils, chemicals and particularly battery acid.
Never attempt to make modifications or changes that will prevent the seatbelt from operating properly.
The following seatbelts have a seatbelt pretensioner. Driver's seatbelt Front passenger's seatbelt Rear passenger's seatbelt (windowside) The seatbelt pretensioners are designed to be activated in the event of an accident involving a moderate to severe frontal and side collision and r..
Other information:
..
The climate control can be set in the following mode. Normal mode Use this mode for normal climate control. Mild mode Use this mode for the mild airflow mode. Power mode Use this mode when climate control needs to be operate to increase the comfort quickly...
Categories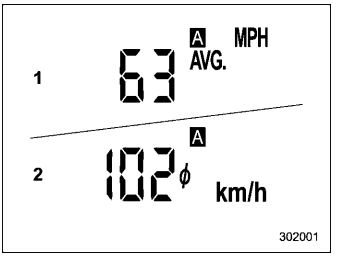 When units in miles is selected When units in km is selected
This display shows the average vehicle speed since the trip meter was last reset. Pressing the TRIP RESET switch toggles the display between the average vehicle speed corresponding to the A trip meter display and the average vehicle speed corresponding to the B trip meter display. When either of the trip meter displays is reset, the corresponding average vehicle speed value is also reset.