Subaru Forester: Seatbelts / Unfastening the seatbelt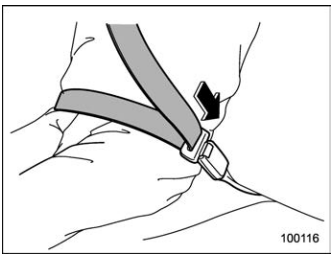 Button
Push the release button of the center seatbelt buckle (on the left-hand side) to unfasten the seatbelt.

NOTE

When the seatback is folded down, it is necessary to disconnect the connector.

Insert a tongue plate or other hard pointed object into the slot in the anchor buckle on the right-hand side and push it in. The anchor tongue plate will then disconnect from the buckle.

With the belt held by hand, allow the retractor to roll up the belt slowly. You should hold the webbing end and guide it back into the retractor while it is rolling up. Neatly store the tongue plate in the recess on the ceiling and then insert the anchor tongue plate into the slot located at the front of the recess.
CAUTION
Do not allow the retractor to roll up the seatbelt too quickly. Otherwise, the metal tongue plates may hit against the trim, resulting in damaged trim.
Have the seatbelt fully rolled up so that the tongue plates are neatly stored. A hanging tongue plate can swing and hit against the trim during driving, causing damage to the trim.
To clean the seatbelts, use a mild soap and lukewarm water. Never bleach or dye the belts because this could seriously affect their strength. Inspect the seatbelts and attachments including the webbing and all hardware periodically for cracks, cuts, gashes, tears, damage, loose bolts or worn a..
Other information:
NOTE The rear gate will remain unlocked even after closing it. Always lock the rear gate when leaving the vehicle. If you cannot open/close the rear gate by performing the operation described here, a short electronic chirp will sound three times (beep, beep, beep)...
WARNING Never adjust the seat while driving, as personal injury or loss of vehicle control may occur. Before adjusting the seat, ensure nothing is blocking the adjusting mechanism. After adjusting the seat, move it back and forth to ensure the seat is securely locked...