Subaru Forester: Trailer towing / Trailer towing tips
CAUTION
For models equipped with the BSD (Blind Spot Detection) and RCTA (Rear Cross Traffic Alert) driving support systems, when towing a trailer, press the BSD/ RCTA OFF switch to deactivate the system. The system may not operate properly due to the blocked radar waves. For details about the BSD/RCTA OFF switch, refer to "BSD/RCTA OFF switch".
For models equipped with Reverse Automatic Braking (RAB) system, consult your SUBARU dealer for additional information about towing a trailer.
Never exceed 45 mph (72 km/h) when towing a trailer in hilly country on hot days.
When towing a trailer, steering, stability, stopping distance and braking performance will be different when compared to normal operation. For safety's sake, you should employ extra caution when towing a trailer and you should never drive at excessive speeds. You should also keep the following tips in mind:
The braking power of the parking brake may not be sufficient when stronger braking power is needed (e.g., when parking on a steep slope while towing a trailer).
WARNING Never tow a trailer when the temporary spare tire is used. The temporary spare tire is not designed to sustain the towing load. Use of the temporary spare tire when towing can result in failure of the spare tire and/or less stability of the vehicle. Make sure that all the tires on your..
Check the towing regulations for trailer or caravan vehicles that vary by state/ region. Failure to comply with the procedures set forth will not only compromise your safety, but will also negate your insurance coverage and/or may violate the state road and traffic acts and regulations..
Other information:
Rotate the key toward the front to lock. Rotate the key toward the rear to unlock. In this case, only the driver's side door is locked or unlocked. NOTE Models with "keyless access with push-button start system": The emergency key is directional...
TRIP RESET switch Type A combination meter Type B combination meter The fuel gauge is displayed when the ignition is in the "ON" position, and it shows the approximate amount of fuel remaining in the tank. The gauge indication may change slightly during braking, turning or acceleration due to fuel level movement in the tank...
Categories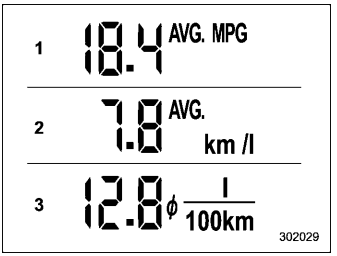 Displays the driving range per gallon of fuel Displays the driving range per liter of fuel Displays the fuel consumption per 100 km
This display shows the average rate of fuel consumption since the trip meter was last reset.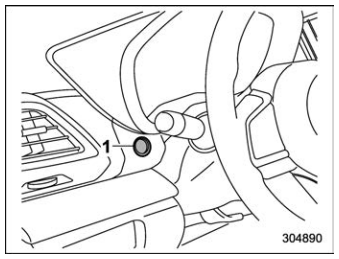 TRIP RESET switch