Subaru Forester: Trailer towing tips / Driving on grades
Before going down a steep hill, slow down and shift to a lower gear (if necessary, use 1st gear) in order to utilize the engine braking effect and prevent overheating of your vehicle's brakes. Do not make sudden downshifts.
When driving uphill in hot weather, the air conditioner may turn off automatically to protect the engine from overheating.
When driving uphill in hot weather, pay attention to the following indicators because the engine and transmission are relatively prone to overheating.

: Coolant temperature high warning light

: AT OIL TEMP warning light
If the coolant temperature high warning light and/or the AT OIL TEMP warning light illuminates, immediately turn off the air conditioner and stop the vehicle in the nearest safe location. For further instructions and additional information, refer to the following sections.
"If you park your vehicle in case of an emergency"
"Engine overheating"
"Coolant temperature low indicator light/Coolant temperature high warning light"
"AT OIL TEMP warning light"
Avoid using the accelerator pedal to stay stationary on an uphill slope instead of using the parking brake or foot brake. That may cause the transmission fluid to overheat.
Always block the wheels under both vehicle and trailer when parking. Apply the parking brake firmly. You should not park on a hill or slope. If parking on a hill or slope cannot be avoided, you should take the following steps: Apply the brakes and hold the pedal down...
Other information:
The angle of the head restraint can be adjusted in several steps. While maintaining a suitable driving posture, adjust the head restraint to a position where the back of your head is as close to the head restraint as possible. To tilt: Tilt the head restraint by hand to the preferred position...
Using an electronic chirp, the system will give you an audible signal when the doors lock and unlock. If desired, you may turn the audible signal off. Perform the following steps to deactivate the audible signal. You can also use the same steps to restore the function...
Categories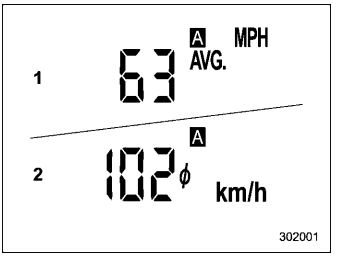 When units in miles is selected When units in km is selected
This display shows the average vehicle speed since the trip meter was last reset. Pressing the TRIP RESET switch toggles the display between the average vehicle speed corresponding to the A trip meter display and the average vehicle speed corresponding to the B trip meter display. When either of the trip meter displays is reset, the corresponding average vehicle speed value is also reset.