Subaru Forester: Uniform tire quality grading standards / TREADWEAR
The treadwear grade is a comparative rating based on the wear rate of the tire when tested under controlled conditions on a specified government test course.
For example, a tire graded 150 would wear one and one-half (1- 1/2) times as well on the government course as a tire graded 100. The relative performance of tires depends upon the actual conditions of their use, however, and may depart significantly from the norm due to variations in driving habits, service practices and differences in road characteristics and climate.
This information indicates the relative performance of passenger car tires in the area of treadwear, traction, and temperature resistance. This is to aid the consumer in making an informed choice in the purchase of tires. Quality grades can be found where applicable on the tire sidewall betw..
The traction grades, from highest to lowest, are AA, A, B and C. Those grades represent the tire's ability to stop on wet pavement as measured under controlled conditions on specified government test surfaces of asphalt and concrete...
Other information:
WARNING Before beginning work on or near any battery, be sure to extinguish all cigarettes, matches, and lighters. Never expose a battery to an open flame or electric sparks. Batteries give off a gas which is highly flammable and explosive...
Maintaining the correct tire pressures helps to maximize the tires' service lives and is essential for good running performance. Check and, if necessary, adjust the pressure of each tire and the spare (if equipped) at least once a month and before any long journey...
Categories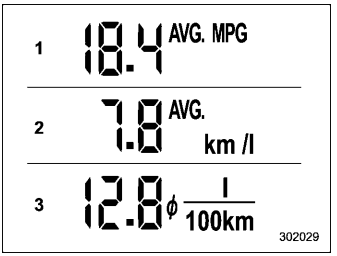 Displays the driving range per gallon of fuel Displays the driving range per liter of fuel Displays the fuel consumption per 100 km
This display shows the average rate of fuel consumption since the trip meter was last reset.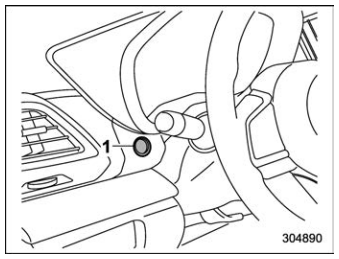 TRIP RESET switch