Subaru Forester: Combination meter settings / Type A combination meter
Various adjustments can be made, such as switching units shown on the combination meter and adjusting the warning tone volume.
While the ignition switch is in the "OFF" position, each press of TRIP RESET switch results in items shown in the table below being switched.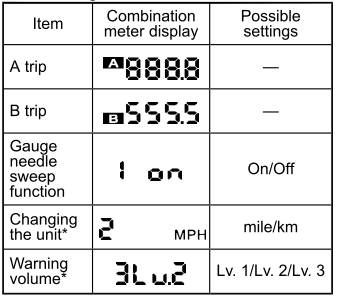 *: If available
NOTE
If you switch the units on the combination meter, the units on the multifunction display (black and white) also switches accordingly.
If either of the following conditions is met, the combination meter setting mode will be canceled.

The driver's door is opened.
The TRIP RESET switch is not operated for approximately 10 seconds or more.
Switching method
Push the ignition switch in the "OFF" position.

TRIP RESET switch

Press the TRIP RESET switch repeatedly until the item you want to change is displayed.
Press and hold the TRIP RESET switch while the item to be changed is displayed, the setting of the item will be switched.
Meter and vehicle settings can be set on the combination meter display (color LCD). Refer to "Menu screens"...
Other information:
The driver's and front passenger's SRS frontal airbags are not designed to deploy in most of the following cases. If the vehicle is struck from the side or from behind. If the vehicle rolls onto its side or roof. If the vehicle is involved in a low-speed frontal collision...
Under the following conditions, all the doors will not lock when the door lock switch is pushed with the front door open. The key is still in the ignition switch (models without "keyless access with push-button start system"). The ignition switch is in the "ACC" or "ON" position (models with "keyless access with push-button start system")...
Categories
The outside temperature is displayed on the multi-function display (color LCD).
NOTE
The outside temperature indicator shows the temperature around the sensor. However, the temperature may not be indicated correctly or the update may be delayed in the following conditions. While parking or driving at low speeds When the outside temperature changes suddenly (example: when going in and out of an underground parking area or when passing through a tunnel) When starting the engine after being parked for a certain period of time The temperature unit cannot be changed.