Subaru Forester: Tires and wheels / Wear indicators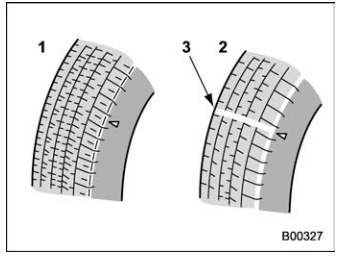 New tread
Worn tread
Tread wear indicator
Each tire incorporates a tread wear indicator, which becomes visible when the depth of the tread grooves decreases to 0.063 in (1.6 mm). A tire must be replaced when the tread wear indicator appears as a solid band across the tread.
WARNING
When a tire's tread wear indicator becomes visible, the tire is worn beyond the acceptable limit and must be replaced immediately. With a tire in this condition, driving at high speeds in wet weather can cause the vehicle to hydroplane. The resulting loss of vehicle control can lead to an accident.
NOTE
For safety, inspect tire tread regularly and replace the tires before their tread wear indicators become visible.
Example of rotational direction marked on the sidewall Front If the tires have specific rotational direction, refer to the arrow marked on the side wall...
Other information:
Replace the wiper blade rubber according to the following procedure. Slit Pull the wiper blade rubber from the right side in the order of (1), (2) and (3) until the slit on the wiper blade can be seen position. Pull the end of the wiper blade rubber through the slit to remove it...
While closing the window automatically, if the window senses a substantial enough object trapped between the window and the window frame, it automatically moves down slightly and stops. If a foreign object is caught while window is opening automatically, the window will stop...
Categories
Free/Open Source Software Information
This product contains Free/Open Source Software (FOSS).
The license information and/or the source code of such FOSS can be found at the following URL.
http://www.globaldenso.com/en/opensource/ivi/subaru/