Subaru Forester: Tires and wheels / Wear indicators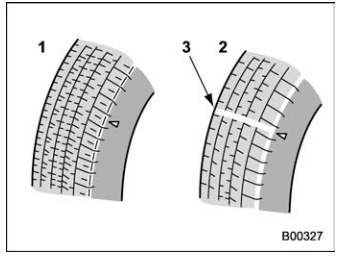 New tread
Worn tread
Tread wear indicator
Each tire incorporates a tread wear indicator, which becomes visible when the depth of the tread grooves decreases to 0.063 in (1.6 mm). A tire must be replaced when the tread wear indicator appears as a solid band across the tread.
WARNING
When a tire's tread wear indicator becomes visible, the tire is worn beyond the acceptable limit and must be replaced immediately. With a tire in this condition, driving at high speeds in wet weather can cause the vehicle to hydroplane. The resulting loss of vehicle control can lead to an accident.
NOTE
For safety, inspect tire tread regularly and replace the tires before their tread wear indicators become visible.
Example of rotational direction marked on the sidewall Front If the tires have specific rotational direction, refer to the arrow marked on the side wall...
Other information:
WARNING Never allow passengers to ride on a folded rear seatback in the cargo area. Doing so may result in serious injury. Never stack luggage or other cargo higher than the top of the seatback because it could tumble forward and injure passengers in the event of a sudden stop or accident...
Use windshield washer fluid. If windshield washer fluid is unavailable, use clean water. In areas where water freezes in winter, use an anti-freeze type windshield washer fluid. If you fill the reservoir tank with a fluid with a different concentration from the one used previously, purge the old fluid from the piping between the reservoir tank and washer nozzles by operating the washer for a certain period of time...
Categories
Free/Open Source Software Information
This product contains Free/Open Source Software (FOSS).
The license information and/or the source code of such FOSS can be found at the following URL.
http://www.globaldenso.com/en/opensource/ivi/subaru/