Subaru Forester: Tires and wheels / Wheel balance
Each wheel was correctly balanced when your vehicle was new, but the wheels will become unbalanced as the tires become worn during use. Wheel imbalance causes the steering wheel to vibrate slightly at certain vehicle speeds and detracts from the vehicle's straight-line stability. It can also cause steering and suspension system problems and abnormal tire wear. If you suspect that the wheels are not correctly balanced, have them checked and adjusted by your SUBARU dealer. Also have them adjusted after tire repairs and after tire rotation.
CAUTION
Loss of correct wheel alignment causes the tires to wear on one side and reduces the vehicle's running stability. Contact your SUBARU dealer if you notice abnormal tire wear.
NOTE
The suspension system is designed to hold each wheel at a certain alignment (relative to the other wheels and to the road) for optimum straight-line stability and cornering performance.
Maintaining the correct tire pressures helps to maximize the tires' service lives and is essential for good running performance. Check and, if necessary, adjust the pressure of each tire and the spare (if equipped) at least once a month and before any long journey. Tire placard Check the t..
New tread Worn tread Tread wear indicator Each tire incorporates a tread wear indicator, which becomes visible when the depth of the tread grooves decreases to 0...
Other information:
Select "Repeat facial scan" from the 2nd menu in the settings screen. Refer to "Setting screen". Select "Yes" to start the repeat facial scan. Select "No" to return to the previous screen. While seated in the driver's seat, face straight forward and wait for a few moments...
CAUTION Do not hold the lever in the flashing position for more than just a few seconds. To flash the headlights, pull the lever toward you and then release it. The high beam will stay on for as long as you hold the lever. When the headlights are on high beam, the high beam indicator light on the combination meter also illuminates...
Categories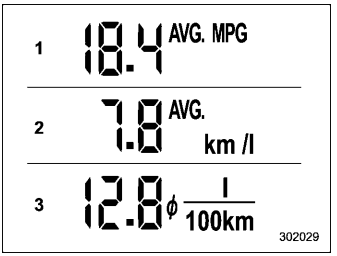 Displays the driving range per gallon of fuel Displays the driving range per liter of fuel Displays the fuel consumption per 100 km
This display shows the average rate of fuel consumption since the trip meter was last reset.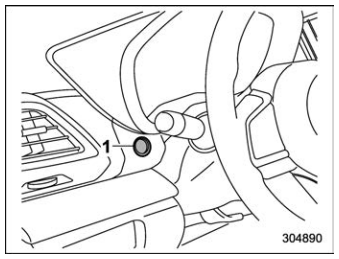 TRIP RESET switch