Subaru Forester: Basic screens / Weather information screen (if equipped)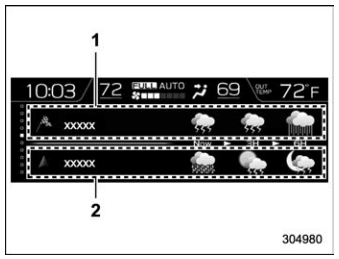 Weather information for the destination*
Weather information for the current location
*: Only when a destination is set in the navigation system
The weather information is displayed on the screen.
NOTE
When all of the following conditions are satisfied, weather information is displayed.

The vehicle is equipped with an audio and navigation system for SiriusXM satellite radio.
You have a current SiriusXM satellite radio subscription.

The weather forecast for the set destination remains displayed until a new destination is set or until you reach the destination.
Depending on the reception timing of XM, the display of weather information may be delayed.
The navigation system information to the destination is displayed on the screen. NOTE When a destination is not set in the navigation system, the compass orientation, name, route sign and speed limit of the road the vehicle is traveling on remain displayed on the screen...
Other information:
Your vehicle is designed and intended to be used primarily as a passenger-carrying vehicle. Towing a trailer puts additional loads on your vehicle's engine, drivetrain, brakes, tires and suspension and has an adverse effect on fuel economy. If you do decide to tow a trailer, your safety and satisfaction depend upon proper use of correct equipment and cautious operation of your vehicle...
WARNING Battery fluid is SULFURIC ACID. Do not let it come in contact with the eyes, skin, clothing or the vehicle.If battery fluid gets on you, thoroughly flush the exposed area with water immediately. Get medical help if the fluid has entered your eyes...
Categories
NOTE
You can set the units for both the multifunction display (black and white) and the combination meter at the same time. For details about setting the language and units, refer to "Type A combination meter" or "Menu screens".