Subaru Forester: Replacing bulbs / Backup light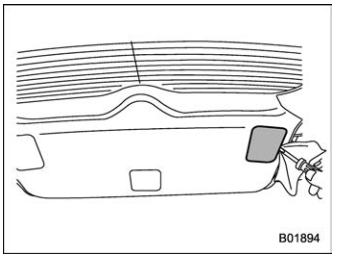 Apply a flat-head screwdriver to the light cover as shown in the illustration, and pry the light cover off from the rear gate trim.

Turn the bulb socket counterclockwise and remove it.

Pull the bulb out of the bulb socket and replace it.
Install the bulb socket by turning it clockwise.
Route the wire as shown in the illustration.

Install the light cover on the rear gate.
Other information:
In any one of the following cases, the engine will be automatically restarted even if the brake pedal is kept depressed. When slightly releasing the brake pedal on road with a steep slope and the vehicle begins rolling When further depressing the brake pedal When depressing the accelerator pedal When you move the select lever to the "R" position...
New transmitters can be programmed to the remote engine start system in the event that a transmitter is lost, stolen, damaged or additional transmitters are desired (the system will accept up to eight transmitters). New remote engine start transmitters can be programmed according to the following procedure...