Subaru Forester: Replacing bulbs / Backup light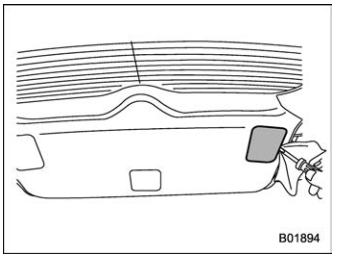 Apply a flat-head screwdriver to the light cover as shown in the illustration, and pry the light cover off from the rear gate trim.

Turn the bulb socket counterclockwise and remove it.

Pull the bulb out of the bulb socket and replace it.
Install the bulb socket by turning it clockwise.
Route the wire as shown in the illustration.

Install the light cover on the rear gate.
Other information:
A head-on collision against a thick concrete wall at a vehicle speed of 12 to 19 mph (20 to 30 km/h) or higher activates only the driver's SRS frontal airbag or both driver's and front passenger's SRS frontal airbags. The airbag(s) will also be activated when the vehicle is exposed to a frontal impact similar in fashion and magnitude to the collision described above...
NOTE The rear gate will remain unlocked even after closing it. Always lock the rear gate when leaving the vehicle. If you cannot open/close the rear gate by performing the operation described here, a short electronic chirp will sound three times (beep, beep, beep)...