Subaru Forester: BSD/RCTA (if equipped) / BSD/RCTA warning light
System malfunction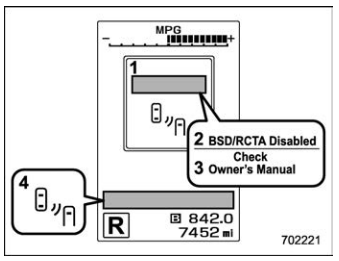 BSD/RCTA malfunction message
At first, this message will appear
Then this message will appear
BSD/RCTA warning light
This display appears when a malfunction occurs in the system. Contact a SUBARU dealer and have the system inspected.
BSD/RCTA OFF switch BSD/RCTA OFF indicator light If the BSD/RCTA OFF switch is pressed, the BSD/RCTA OFF indicator light appears on the combination meter, and the BSD/RCTA is deactivated...
Other information:
The ECO gauge shows the difference between the current rate of fuel consumption and the average rate of fuel consumption since the trip meter was last reset. If the ECO gauge moves towards the + side, this indicates better fuel efficiency. NOTE The ECO gauge shows only an approximate indication of fuel efficiency...
Safety precautions WARNING Bulbs may become very hot while illuminated. Before replacing bulbs, turn off the lights and wait until the bulbs cool down. Otherwise, there is a risk of sustaining a burn injury. CAUTION Replace any bulb only with a new bulb of the specified wattage...