Subaru Forester: BSD/RCTA (if equipped) / BSD/RCTA warning light
System malfunction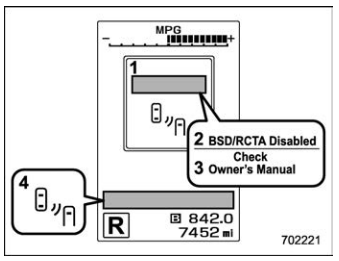 BSD/RCTA malfunction message
At first, this message will appear
Then this message will appear
BSD/RCTA warning light
This display appears when a malfunction occurs in the system. Contact a SUBARU dealer and have the system inspected.
BSD/RCTA OFF switch BSD/RCTA OFF indicator light If the BSD/RCTA OFF switch is pressed, the BSD/RCTA OFF indicator light appears on the combination meter, and the BSD/RCTA is deactivated...
Other information:
Apply the parking brake. Shift the select lever to the "P" (Park) position. Depress the brake pedal. Hold the access key fob with the buttons facing you, and touch the pushbutton ignition switch with it. When the communication between the access key fob and the vehicle is completed, a chime (ding) will sound...
Always wash and dry the vehicle before waxing and polishing. Use a good quality polish and wax and apply them according to the manufacturer's instructions. Wax or polish when the painted surface is cool. Be sure to polish and wax the chrome trim, as well as the painted surfaces...