Subaru Forester: Rear seats / Folding down the rear seatback
WARNING
When you fold down the seatback, check that there are no passengers or objects on the rear seat. Not doing so creates a risk of injury or property damage if the seatback suddenly folds down.
Never allow passengers to ride on the folded rear seatback or in the cargo area. Doing so may result in serious injury or death.
Secure all objects and especially long items properly to prevent them from being thrown around inside the vehicle and causing serious injury during a sudden stop, steering maneuver or acceleration.
When you return the seatback to its original position, shake it slightly to confirm that it is securely in place. If it is not securely fixed in place, it may suddenly fold down in the event of sudden braking, or objects may move out from the cargo area. Both could cause serious injury or death.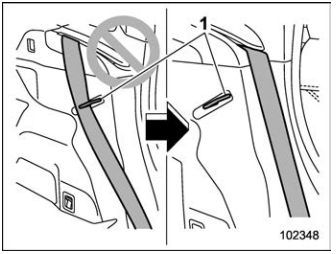 Striker
WARNING
When the seatback is returned to its original position, observe the following precautions. Failure to do so may lead to serious injury or an accident because the operation efficiency of the seatbelt is inhibited.
The seatbelt should not be caught in the seatback and it should be fully visible.
The seatbelt should not pass behind the striker for the seatback.
CAUTION
Do not hang luggage etc. on the striker. The possibility exists that the seatback may not be able to be fixed firmly in place. This could lead to unexpected accidents.
While driving, if something hits the release latch, it is possible that the seatback will fold down. Be careful that no luggage etc. hits the latch.
Lower the head restraint of the rear center seating position.

Release knob

Release latch on both sides of the cargo area (if equipped)

Unlock the seatback by pulling the lock release knob or release latch (if equipped) and then fold the seatback down.
WARNING When returning the seatback to its original position, observe the following precaution.Failure to observe the precaution may damage the seatbelt, impairing its effectiveness, and possibly result in a serious injury...
Other information:
Driver's side Passenger's side SRS AIRBAGs deploy as soon as a collision occurs. After deployment, SRS AIRBAGs start to deflate immediately so that the driver's vision is not obstructed. The SRS airbags can function only when the ignition switch is in the "ON" position...
The HomeLink® Wireless Control System provides a convenient way to replace up to three hand-held radio-frequency remotes used to activate devices such as gate operators, garage door openers, entry door locks, security systems, and even home lighting...