Subaru Forester: Specifications / Bulb chart
Safety precautions
WARNING
Bulbs may become very hot while illuminated. Before replacing bulbs, turn off the lights and wait until the bulbs cool down. Otherwise, there is a risk of sustaining a burn injury.
CAUTION
Replace any bulb only with a new bulb of the specified wattage. Using a bulb of different wattage could result in a fire.
Bulb chart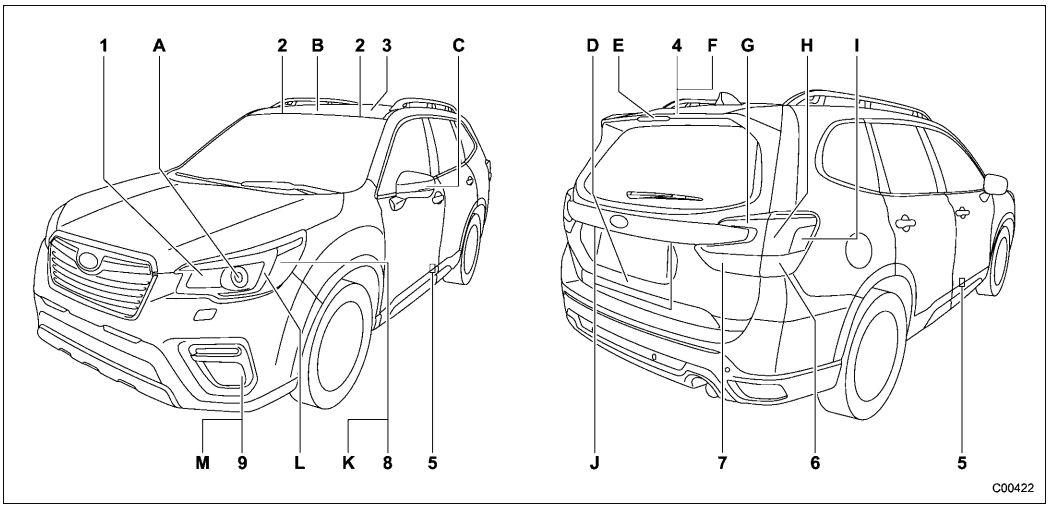 NOTE
Lights A, B, C, D, E, F, G, H, I, J, K, L and M are the LED (Light Emitting Diode) type. Consult your SUBARU dealer for replacement.

Vehicle identification number (under the floor carpet of the right-hand front seat) Emission control label Tire inflation pressure label Certification label Vehicle identification number label Model number label Fuel label Air conditioner label ..
Other information:
Sit well back in the seat. Pick up the tongue plate and pull the belt out slowly. Do not let it get twisted. If the belt stops before reaching the buckle, return the belt slightly and pull it out more slowly. If the belt still cannot be unlocked, let the belt retract slightly after giving it a strong pull, then pull it out slowly again...
The ABS prevents the lock-up of wheels which may occur during sudden braking or braking on slippery road surfaces. This helps prevent the loss of steering control and directional stability caused by wheel lock-up. When the ABS is operating, you may hear a chattering noise or feel a slight vibration in the brake pedal...