Subaru Forester: Rear seats / Center seating position
CAUTION
The head restraint is not intended to be used in the retracted position. Before sitting in the seat, raise the head restraint to the extended position.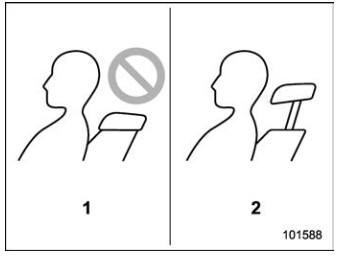 When not used (retracted position)
When used (extended position)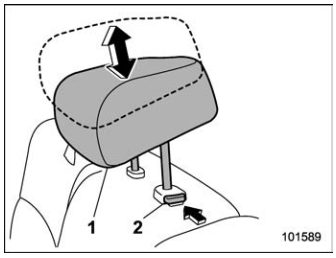 Head restraint
Release button
To raise:
Pull the head restraint up.
To lower:
Press the release button then push the head restraint down.
To remove:
Press the release button, and pull out the head restraint.
To install:
Push the head restraint into the holes on the top of the seatback until it locks. Press and hold the release button to lower the head restraint.
When the rear center seating position is occupied, raise the head restraint to the extended position. When it is not occupied, lower it to improve rearward visibility.
The seat heater is equipped in the front seats or rear seats (window side seating position). The seat heater operates when the ignition switch is either in the "ACC" or "ON" position...
Other information:
WARNING Adding weight to the vehicle's roof can adversely affect handling, braking, and rollover resistance. The vehicle must never be driven with a total roof rail load in excess of 176 lbs (80 kg). CAUTION The roof rail load limit for stationary vehicles (700 lbs (317 kg)) applies only when the vehicle is parked and the load is evenly distributed left/right and front/ rear and the roof crossbars and roof tent are tightly secured to the vehicle...
Select "Automatically retract seat on entry" from the 2nd menu in the settings screen. Refer to "Setting screen". Select "On" or "Off" to turn the auto entry/exit function on or off by using the control switches. Select "Set" to exit settings...
Categories
Free/Open Source Software Information
This product contains Free/Open Source Software (FOSS).
The license information and/or the source code of such FOSS can be found at the following URL.
http://www.globaldenso.com/en/opensource/ivi/subaru/