Subaru Forester: Rear seats / Center seating position
CAUTION
The head restraint is not intended to be used in the retracted position. Before sitting in the seat, raise the head restraint to the extended position.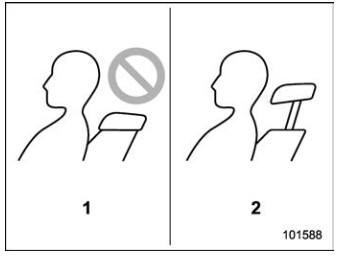 When not used (retracted position)
When used (extended position)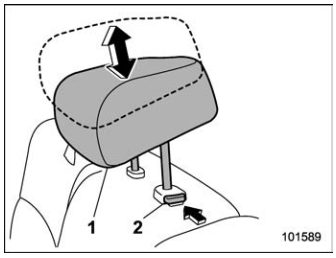 Head restraint
Release button
To raise:
Pull the head restraint up.
To lower:
Press the release button then push the head restraint down.
To remove:
Press the release button, and pull out the head restraint.
To install:
Push the head restraint into the holes on the top of the seatback until it locks. Press and hold the release button to lower the head restraint.
When the rear center seating position is occupied, raise the head restraint to the extended position. When it is not occupied, lower it to improve rearward visibility.
The seat heater is equipped in the front seats or rear seats (window side seating position). The seat heater operates when the ignition switch is either in the "ACC" or "ON" position...
Other information:
This light illuminates when the cruise control main button is pressed to activate the cruise control function. For details, refer to "To set cruise control". If this light blinks, do not use the cruise control. In addition, if it blinks frequently, contact your SUBARU dealer for an inspection...
Warranties for U.S.A. SUBARU vehicles distributed by Subaru of America, Inc. and sold at retail by an authorized SUBARU dealer in the United States come with the following warranties: SUBARU Limited Warranties Federal Emission Control Systems Warranties California Emissions Control Systems Warranties All warranty information, including applicability, details of coverage and exclusions, is in the "Warranty and Maintenance Booklet"...
Categories
Free/Open Source Software Information
This product contains Free/Open Source Software (FOSS).
The license information and/or the source code of such FOSS can be found at the following URL.
http://www.globaldenso.com/en/opensource/ivi/subaru/